Home > News > First Look


Drop plan to visit Lanka, Vaiko tells PM

January 02, 2008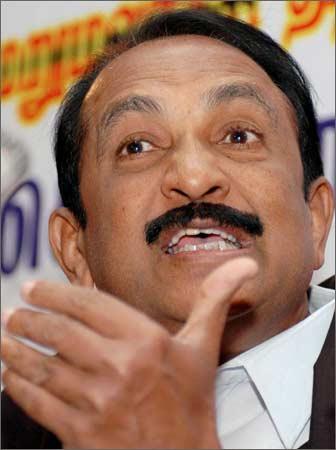 Marumalarchi Dravida Munnetra Kazhagam chief Vaiko appealed to Prime Minister Manmohan Singh [Images] to drop his plan to visit Sri Lanka [Images] to participate in the National Day celebrations on February 4, alleging that Colombo had negated the provisions of the India-Sri Lankan accord.
"Sri Lanka's Supreme Court in a recent verdict has nullified the merger of North and East provinces of that country. Under these circumstances, it is a wrong move by the prime minister to visit that country. I appeal to the prime minister to drop the visit," he said.
On the reports that LTTE supremo V Prabhakaran was injured in a strike by Sri Lankan air force, he said it was the normal practice by that government to spread false news about Tamils in the Island.
"There is no truth in the report," Vaiko, a staunch supporter of the Liberation Tigers of Tamil Eelam, said.
Vaiko said a mid-term poll to the Lok Sabha in 2008 was inevitable following the Bharatiya Janata Party's victory in Gujarat and Himachal Pradesh polls.
These were clear pointers that the UPA government was losing its popularity, he said.
He also claimed that the Left parties will not support the Manmohan Singh government till the end of its term as they are losing their base in their bastions like West Bengal.
They will not be willing to support the Congress for the next polls also, as the party was suffering from an anti-incumbency factor, he said.
Under these circumstances, a mid term polls were unavoidable, he said adding the Lok Sabha polls would have an impact on Tamil Nadu politics, which also would face elections, he said.