Home > India > News > Report

Mumbai: Raj Thackeray, Abu Azmi granted bail

Syed Firdaus Ashraf in Mumbai | February 13, 2008 16:21 IST
Last Updated: February 13, 2008 19:45 IST



Maharashtra Navnirman Sena chief Raj Thackeray was granted bail by a Mumbai court after being arrested from his Shivaji Park residence on Wednesday evening.

Thackeray was released on a personal bond of Rs 15,000.

Samajwadi Party leader Abu Azmi was also arrested from his residence in Mumbai and taken to the Bhoiwada court in central Mumbai. However, the court granted him bail and he was released on a surety of Rs 10,000.

Soon after Thackeray returned to his Shivaji Park home, senior MNS leader Shirish Parkar said the party was very happy.

"We are all very happy and we are celebrating Diwali now. We are celebrating advanced Valentine's Day today," he said.

Asked if he means the MNS won't protest or oppose the celebration of Valentine's Day, he said, "At the moment, we have other things to think about. So, we haven't decided anything about tomorrow."

Thackeray was taken in a police van to the Vikhroli court in Mumbai's suburbs after his arrest.

About two dozen supporters of Thackeray were with him at the time of arrest.

Raj had earlier stated that he would not apply for bail if arrested.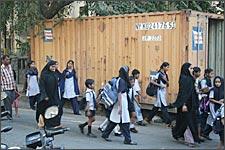 The city police had registered cases on Sunday night against Thackeray at separate police stations under Section 153 (wantonly giving provocation with intent to cause riot), 153 A (promoting enmity between groups on the basis of places of birth, residence etc) 153 B (assertions prejudicial to national integration) and 117 (abetting the commission of any offence by the public) of the Indian Penal Code.
If convicted, Thackeray could face three years imprisonment.
The police have taken the correct step in arresting Thackeray, Maharashtra Chief Minister Vilasrao Deshmukh said.
Thackeray's arrest has shown that the Maharashtra government will not let anyone to take the law into his own hands, Deputy Chief Minister R R Patil said.
Meanwhile, the police made around 1,800 preventive detentions in various parts of the state to prevent any untoward incident in the aftermath of the arrests of Thackeray and Azmi, Director General of police P S Pasricha said.
Deshmukh ruled out any law and order problem in the wake of Thackeray's arrest. He said the police had taken adequate precautions.
Violence broke out in various parts of Mumbai following the arrests.
Shopkeepers pulled down their shutters and office-goers headed back home earlier than schedule fearing violence.
Police said at least 10 calls, a majority of them from the north-west suburbs, of stone-pelting were received from various localities.
Deputy Commissioner of Police Makrand Ranade said a couple of buses were targeted by a mob at Dahisar and many of them have been arrested.
He said a truck caught fire at Dahisar accidentally and the post-arrest protests had nothing to do with it.
Three persons were apprehended while forcing closure of shops in Jogeshwari locality, DCP K M Prasanna said.
Earlier in the day, six persons were picked up by the police on the charge of unlawful assembly from Pant Nagar locality in suburban Ghatkopar.
As a precautionary measure some schools declared a holiday after the arrests.
Photograph: Reuben N V
Caption: Schools closed early after news of Raj Thackeray's arrest spread. Parents take their children home from a school in Mahim, which is near Shivaji Park where Thackeray lives.
Additional Reportage: PTI