Home > News > First Look


Dampened spirit of protest

May 08, 2006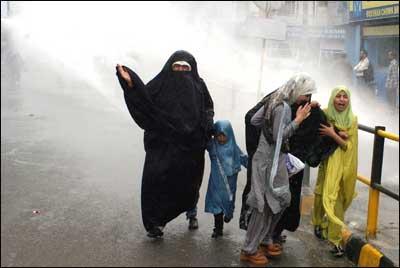 Members of Dukhtaran-e-Millat, a women's organisation in Srinagar, were protesting on Monday against 'police inaction' in the alleged sex racket, when they were dispersed by police using water cannons. The demonstration disrupted traffic for over an hour as 50 burqa-clad members shouted slogans against the police and the state government, for allegedly shielding suspects of the crime.
Syeda Aasiya Indrabi, the chief of DeM, said this was being done because of the alleged involvement of a number of politicians, businessmen and police. She charged the authorities with destroying evidence at the residence of  Sabeena, the alleged kingpin of the sex racket. A mob, on Friday, had attacked Sabeena's two houses and partially destroyed them.
Indrabi, dismissing the CBI probe as an attempt to 'save the culprits', said that the DeM will continue protesting.
Photo: Sajjad Hussain/AFP/Getty Images


What do you think about the story?








Read what others have to say:





Number of User Comments: 1








Sub: My Views

Yes, the act of ransacking and destroying the house by the mob is a clear act meant for wiping of the vital evidences which could ...


Posted by Majid






Disclaimer