W
hen Marumalarchi Dravida Munnetra Kazhagam chief Vaiko inked a poll pact with J Jayalalithaa,
K Kalimuthu
was in a hospital bed. But it was the former Tamil Nadu Assembly speaker and All India Anna Dravida Munnetra Kazhagam presidium chairman who openly invited Vaiko to sever ties with the seven-party Democratic Progressive Alliance led by the Dravida Munnetra Kazhagam and join the AIADMK fold. He is also the only member of the AIADMK who speaks to the press.
Back at his official residence and still recuperating, Kalimuthu speaks to Shobha Warrier about how the MDMK was won over.
When did your party start thinking about bringing Vaiko to your side?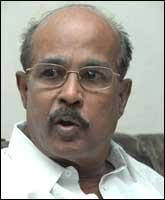 It is natural for any political party to try and get alliance partners. And, it was Amma [Jayalalithaa] who decided to forge an alliance for the coming polls. She said, 'our doors are open, and we are waiting to talk to anyone with an open mind.' That was how it all started.
In the case of Vaiko, your government had arrested him under the Prevention of Terrorism Act. He was branded a terrorist and yet you have decided to welcome him. Why?
See, the MDMK workers know the bitter truth. Vaiko suffered more from the DMK leadership than from anybody else. Vaiko had to bear so many things in his political career, he was terribly hurt. Those wounds are much deeper than what happened to him in politics.
The MDMK workers know all this, that's why they were sure about joining the AIADMK. It was the strong stand of the party workers and the treatment meted out to him by the DMK leadership that had resulted in him joining our alliance.
Joint statement biased against LTTE: MDMK
At the election meetings, how will you justify having someone in your alliance who you had put in jail?
We know that the people of Tamil Nadu want this alliance. If you look back, these things [arrests] are quite common in politics. I can cite quite a few examples from the history of Indian politics. [Jawaharlal] Nehru and Sheikh Abdullah were close friends but Sheikh was arrested by Nehru. Like our CM said, there are no permanent enemies or friends in politics. We only followed certain rules, and the MDMK workers understood our compulsions.
Did Jayalalithaa ask you to talk to Vaiko because you were his classmate?
No, I was not asked to talk to him. When I understood what the CM wanted, I started openly welcoming him at various functions. I invited him by explaining several stories from the Mahabharata. Because Vaiko and I were classmates and were from the same background, I thought I would do the talking in public.
You mean the CM didn't ask you to speak like that?
No, Amma didn't say anything. I understood what was in the mind of my leader, and as I am the spokesperson of the party, I spoke.
How did you know that she wanted you to invite Vaiko? Didn't you have any hesitation?
When she said she was welcoming everyone, I took it as a signal and invited Vaiko. I knew that was what she wanted. She trusts me.
Were you aware that he was unhappy with the DMK alliance?
I knew it very well. I have heard the MDMK party functionaries also talking about that. At some public functions, they even said that the DMK had a hidden agenda, and that the DMK chief was bent upon making Stalin the CM of Tamil Nadu. They also spoke of the kind of dynastic politics the DMK chief was indulging in. So, they felt it was not good to be in the DMK alliance.
When I met some of the MDMK functionaries, they told me they had informed Vaiko of their feelings, and that I should invite him as a friend. I invited him after knowing all that.
When did you meet Vaiko?
Both of us have not yet met officially. Around six months back, I had met him on a flight to Madurai. That was when both of us opened our heart. Then, I asked him to join our alliance as both his party men and Amma wanted such an alliance. He also told me how it was to be in the DMK alliance. I told him he would be very happy if he joined our alliance.
You mean the two of you didn't even speak over phone while the deliberations were going on?
We speak over the phone quite often. After he met the chief minister, he came to see me in the hospital, but that was to enquire about my health.
It was a very happy meeting. I congratulated him for taking such a decision.
Did you have to try hard to convince him?
Yes. I told him that the people of Tamil Nadu are with the AIADMK. But his problem was that he had gotten himself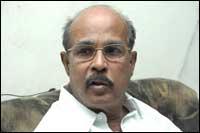 entangled in that alliance, and he could not break away from it that easily. There were a lot of compulsions, especially from the Centre, on him to continue with the DMK alliance. Finally he was convinced that the people preferred the AIADMK alliance, and that they would appreciate him if he was with us.
Your party is a very strong critic of the Liberation Tigers of Tamil Eelam. Now, you have aligned with the MDMK and the Dalit Panthers, and both Vaiko and Tirumalvalavan are great supporters of the LTTE. Does that mean there is a change in the party's attitude towards the LTTE?
Amma is very sure about one thing; that there should not be any militancy or terrorism in Tamil Nadu. She is also sure that there should be unity among all the Tamils.
All Tamils? Do you mean all those who live in Tamil Nadu and Sri Lanka?
Yes, I mean those who live in Tamil Nadu and Jaffna. Supporting the LTTE and supporting all the Tamils are two totally different issues. We are sure even our friends, Vaiko and Tirumalvalavan, do not want terrorists entering Tamil Nadu.
Generally, nobody from the AIADMK speaks to the press. Why is it so?
Everyone knows that all decisions are taken by Amma. Without knowing what she decides, we feel we should not say anything. That is the reason why nobody speaks to the press.
Does she get angry if anybody from the party speaks to the press?
No, she will never get angry.
Has she given you the authority to speak about the alliance?
I am the spokesperson of the party, and not an authority. That is why I am being interviewed by the press on the alliance issue. The press also knows that I will give the correct information.
After Vaiko joined the alliance, did Jayalalithaa congratulate you or appreciate your efforts?
I am yet to meet her. I have requested for a meeting with her. Till now, I was in the hospital. And, she used to call the doctors everyday enquiring about my health. She even visited the hospital twice.
So one final time, are you or are you not the architect of the AIADMK-MDMK alliance?
I didn't feel that way. The CM is responsible for everything. It was because of her magnanimity, diplomacy and motherliness that we have this alliance. I felt it was my duty to speak at the public functions, and I did only that.