Home > News > Stars We Spotted


Spotted! Suresh with George Bush

December 14, 2006

Reader Balaji Swaminathan sends us this picture of his brother Suresh with United States President George W Bush.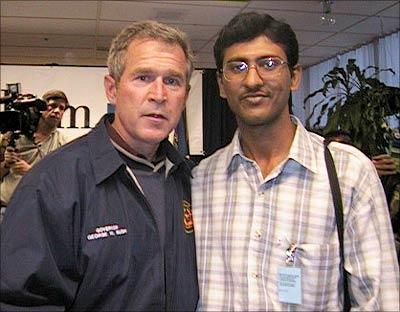 'This picture was taken during Bush's presidential election campaign way back in 2000,' writes Balaji, adding, 'Bush was campaigning in New Hampshire.'
If you encounter/meet/see a newsmaker or are witness to any major news event, please scan the photographs and mail the pictures to us. We will feature the best images right here on Rediff News.
Also see: Tarendra with Hillary Clinton


What do you think about the story?








Read what others have to say:





Number of User Comments: 7








Sub: Don't Complain

Just enjoy the fun of pictures guys, don't complain(see some of other posts)


Posted by Lakshman









Sub: suresh photo

please do not send this kind of photos nobody would be knowing who is suresh. absolutely irrelevant for the readers. this degrade the quality of ...


Posted by sunil gupta









Sub: Morphing at its BEST

It looks as its wonderfully MORPHED..!! CHECK OUT!!!


Posted by JRG









Sub: wonderful

Really wonderful to see such a nice pic,can you imagine the same photo with our beloved politicians


Posted by arjun









Sub: ancient photos!

I enjoy watching Rediff\'s SPOTTED photos. All the same I wish u wouldn\'t publish such old pics. One would think that the photos were clicked ...


Posted by Rebecca Thomas






Disclaimer