Home > News > First Look


Spotted! Tarendra with Hillary Clinton

December 13, 2006

A few days ago, we had asked you, dear reader, to send us photographs of newsmakers and news events that you may have met/witnessed.

Dr Tarendra Lakhanar from Fort Collins, USA, sends us this photograph with New York Senator Hillary Rodham Clinton.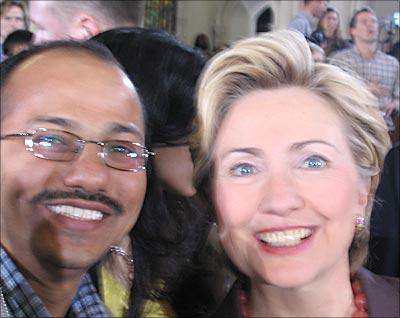 'This photograph was taken during the 2004 US presidential election campaign, when (the Democrat presidential candidate) John Kerry and Hillary Clinton visited the City College of New York, where I did my PhD,' writes Tarendra.
If you encounter/meet/see a newsmaker or are witness to any major news event, please scan the photographs and mail the pictures to us. We will feature the best images right here on Rediff News.


What do you think about the story?








Read what others have to say:





Number of User Comments: 4








Sub: Hillary

Some folks get unusually jealous or irritated by some Indians meeting world leaders. Guys! wake up, this area is not about political agenda; it is ...


Posted by Sanazu









Sub: and so?

how disgusting!


Posted by balamuralidhar









Sub: Ridiculous

the picture above was shot way back in 2004....was this the original purpose to start this column..i mean any damn pic clicked at any point ...


Posted by saurabh sood









Sub: Hillary - India Hater

Why do these fawning NRIs fall for Hillary - she is a racist condescending bigot who is anti-Indian. Witness her support for the amendments to ...


Posted by Lionel






Disclaimer