Home > News > Interview

The Rediff Interview/K R Narayanan

March 08, 2005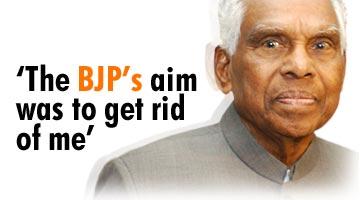 In the second part of the interview granted to Congress legislator from Kerala P T Thomas that appeared in the Malayalam monthly Manava Samskriti, and reproduced here with its kind permission, former President K R Narayanan accuses the Bharatiya Janata Party of scuttling his chances of securing a second term. An interview translated from the Malayalam by Deputy Managing Editor George Iype.
Part I: 'Vajpayee govt supported Gujarat riots'
People looked forward to your second term as the President of India. Who scuttled your chance?
It is the BJP that scuttled my second term as President. The Left parties came to me with a proposal that I should stand for a second term. I asked them then where could I get the numbers to win. They kept quiet.
The BJP government that had come into power had a hidden agenda in many sectors including education. Securing the reins of education to spread their ideology was their aim. I had intervened in the appointment of certain vice-chancellors. Those, including Murli Manohar Joshi (the then human resources development minister) had resentment about that. My interventions were democratic and constitutional. Above all, the interests of secularism were involved.
They had received legal advice on the possibility of my intervention if I continued in the President's office. At a certain stage, they told me they had decided not to support anybody for more than one term in the posts of President and vice-president. Their aim was to get rid of me and they carried out that mission quite efficiently.
They might have thought it would be difficult for them to lead the government with a person ideologically poles apart occupying the office of President. They came to power with the intention to implement lots of hidden agendas in the country. They must have felt uncomfortable executing these agendas in my presence.

You have occupied several top posts such the President, vice-president, Central minister and vice-chancellor. What were your satisfaction, limitations and guilt feelings while in power?
I knew there were many limitations while I exercise my powers. Therefore, I always exercised powers after thinking a lot. Many people try to utilise powers without discretion and discrimination. I feel that those exercising their authority and powers should have maturity, tolerance and vision.
I enjoyed the most in power while I was the vice-chancellor of the Jawaharlal Nehru University. In fact, the post was not about power. It was a social job involving culture and education of the country. I got political knowledge and experience while I was at JNU. The relationships with the JNU teachers and students helped me a lot in becoming a good politician. The JNU experience was the basis of my political work.

As the President of India, I had lots of experiences that were full of pain and helplessness. There were occasions when I could do nothing for people and for the nation. These experiences have pained me a lot. They have depressed me a lot. I have agonised because of the limitations of power. Power and the helplessness surrounding it is a peculiar tragedy, in fact.

But I have never felt guilty about my decisions as President of India. But there were certain decisions of mine, which resulted in big setbacks making me think I should not have taken those decisions. For instance, I returned the Gujral government's request to dissolve the Uttar Pradesh assembly and government. I did it because I felt Constitutionally I was doing the right thing. But the occurrences later on proved that politically what I did was not correct.
The BJP played politics in UP by utilising the services of the Speaker there. It had a long impact on Indian politics itself. The BJP came to power in UP and at the Centre, largely because of this incident. If the Gujral government had come once again to me with the proposal, I would have signed it. But it never came thinking I would return it once again.

What prompted you to enter into full-fledged politics?
To be frank, I did not do anything deliberately to enter active politics. But I always had in my mind an urge to do something for the people through politics. I got the inspiration and support to enter politics from Indira Gandhi. Those days, I was the JNU vice-chancellor. But by the time I was preparing to contest my first parliamentary election in 1984, Indira Gandhi was killed.
When I came to Kerala as a Lok Sabha candidate from Ottappalam, many Congress leaders in the state were dissatisfied. My well-wishers also were upset because I decided to contest in a constituency where the Communists had the upper hand. In fact, senior leaders like K Karunakaran did not come to campaign for me in Ottappalam.
They all thought that I would never win from there. But as the polls came near, Congress workers were working for me day and night, and it made lots of impact resulting in my success. Despite me winning three consecutive elections from Ottappalam, Karunakaran told me I was not going to be made a minister in the Narasimha Rao government as I had always been a Communist fellow-traveller.
I then asked Karunakaran whether it was not the Communists whom I defeated on all three occasions. After my three-time victory from Ottappalam, the Congress has never won from the constituency.

The Cold War has ended and there has been a transformation in the bilateral relations of countries in the world. What is the path for India to travel in this changed world?
I think the best path for India to follow is the middle way. India need not change its non-aligned foreign policy because the world is now free from Cold War. Our foreign policy is based on certain values. There is no need to change the foreign policy because the Cold War has ended. We should not cast off our non-alignment policy that upholds universal friendship and humanity. The core of our foreign policy is its ability to take independent and impartial positions on international issues.

Photograph: Paresh Gandhi | Image: Uday Kuckian
The Rediff Interviews


What do you think about the story?








Read what others have to say:





Number of User Comments: 62








Sub: BJP's aim was to get rid of me

I agree with many of the viewers opinion.The presidents position is much higher than PM while talking of expected moral values or caliber.Surprising to hear ...


Posted by krishna









Sub: interview of KR NARAYANAN

Former President K R Narayanan is now feeling restive, and wants to come back to active Congress politics, especially at a time when the congress ...


Posted by praveen saxena









Sub: K.R. arayanan's Interview

Compared to the qualities and qualifications of the present President, his pales into insignificance. And he has further demeaned himself by his outbursts in this ...


Posted by RG









Sub: Former President of India

I usually don't like to read the comments people write about an article on such newpapers and other websites. But this time, I thought I ...


Posted by Amit









Sub: KRN's outbursts

He was selected to be the president for reasons well-known to all. And he has always represented a particular section and showed no inclinations of ...


Posted by Thobey Srinivasan






Disclaimer