Home > News > Interview

The Rediff Interview/SAJA President Deepti Hajela

March 02, 2005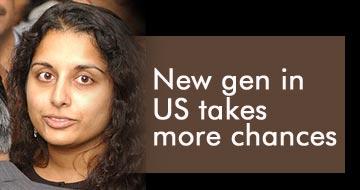 Deepti Hajela was elected president of the South Asian Journalists Association in January. Born at Columbia University, New York, in 1994, SAJA fosters ties between journalists from South Asia in North America and aims to improve coverage of the region.
A newswoman at the Associated Press' New York bureau, Hajela gets to capture the vivacity of the city as well as explore its underbelly. She traverses museums and galleries to seek out interesting exhibits and events on the one hand and on the other, analyses the contentious issues of race and ethnicity.
The SAJA president spoke to Principal Correspondent Monika Joshi in New York recently.
Tell us about some of your interesting assignments.
I have had very supportive editors who have been open to my story ideas. I have got the opportunity to report on many things that I find interesting. I like to focus on issues of race and culture. I find them most interesting.
When people ask me what I like about my job, there is the aspect of who I have met. It is interesting to be near famous people, presidents to world leaders, and actors and celebrities. You get a kick out of this.
I have enjoyed a lot of the conversations with interesting people, academics, community folks and people who are dedicated to what they do. There is so much of it that is enjoyable to me that I come out of the day happy.
Anyone in particular?
I did a story recently on the wealth gap between blacks and whites. There were a couple of professors I spoke to. I enjoy talking to people who are very passionate about what they do. The museum stuff is always fun as I get to look at beautiful art and interesting exhibits. There was one on style in New York that had beautiful dresses I got to look at.
Every year brings with it stories that I look back at and think, wow, I'm glad I got a chance to do it. Last year, we did a series marking the 50th anniversary of Brown versus the Board of Education. I did a couple of stories for it. It was fun. A couple of years ago, it was a series on poverty in New York State. Last year, I got a chance to write about Bombay Dreams coming to Broadway.
How about Harry Potter?
I love Harry Potter. It definitely is one of my favourite things. I adore Harry Potter. I love writing the reviews. I love to read Harry Potter books. In fact, I devour them. I don't do a lot of reviews, though that is among my favourite assignments. This year, the new Harry Potter book will hit the stands. I have put in my request -- please, please, please, let me be the one to write the review.
Which is your favourite Potter title?

I love them all. Right now, I think the last one, Harry Potter and the Order of the Phoenix. It takes the story forward.

What draws you to race and ethnicity?

It's personal. I came to the US when I was six months old. My parents were immigrants. Issues of culture, what we hold on to, what we try to pass on, what we let go of, fascinate me. I am continually amazed by how the US changes and is changed by people who live here and who come here.

How involved do you get when it is a story about South Asia?

I don't think it's only South Asia. When I am in the middle of a story, I'm really interested in, I feel connected to it. I love stories where I learn something along the way, when reporting for the story requires that I start thinking about what questions I want to ask and what exactly am I trying to write about.

Any story that challenges me is a story that I am thrilled to do. When I did a story about (the British musician) Panjabi MC, it was fun as it was about music that I like. It's fun to write about stuff that I know about. Before I did the story about Bombay Dreams, I had seen it in London. I did not have to ask the producers -- what is Bollywood.

How and when did you get interested in journalism?

From the age of 17, I liked books and loved writing. I have always liked people and have always been way too curious about things that are not really of my business.

I was at home one night and was looking at some nature photographs. I was admiring some prints of mountains and huge landscapes that had been reduced to fit into a book. Though those were tiny pictures, they made one look at them and say -- wow they are so beautiful. It occurred to me, I wanted to tell people stories -- stories about who they are, the good things they do, the bad things they do, the fun things they do, everything that makes them humans. I decided then and there, I wanted to be a storyteller.

What was your parents' reaction? Journalism is still a non-traditional profession.

My father passed away when I was very young. My mother is a doctor. She has always maintained that my brother and myself would be what we wanted to be, happy, and good at anything we do.

She was caught off guard by my choice of profession, as she did not know any journalist. There were not too many South Asians on television or in the papers. She was taken aback and thought it was a passing phase. She felt I would go to law school. At that time, we knew I was not going to be a doctor as science was not my first love.

But since she has always been supportive of me, I have never had a moment when she was not behind me. While my brother chose to be a doctor, I opted for a non-traditional profession.

What brings this spurt in Indian Americans in the media? Is it because the new generation that grew up here has had more choices?

I think so. When a community first comes here, it looks for security, stability and success. So you are focused on professions like those of doctors, engineers and lawyers.

For future generations born and brought up here, success has a different definition. They are more willing to take chances on what they want to do.

What is your advice to an aspiring journalist? How does one get into Associated Press?

There are a number of ways to get into AP. We have an internship program. We have positions. We hire locally. There are different closed positions and temporary positions. You need to be accurate and fast to succeed here (laughs), and curious.

What is your dream job?

I'm happy with the one that I have. When I went to journalism school (Medill School of Journalism, Northwestern University) I met people who knew that I want to work for such and such company, in such and such city.

For me, work has always been of utmost importance. I want to be challenged, I want to be able to grow, I want to get better. I always want to write stories that make people think. You don't have to agree with the stories I tell. I don't have a problem with that. I want you to think about whatever I write. I am happy here. I have supportive editors and a lot of freedom to express myself and explore.

Do you want to be on the national scene, in Washington?

I am much interested in public policy but I prefer to cover some kind of community perspective. Legislators making laws is one way of covering it. But my interest lies in the practical side, for instance how did law change your life. I am interested in writing on a national level in talking about the US as a whole but it's always from a very people-based perspective.

What are the pros and cons of working in a wire service?

I enjoy it here. It fits my personality as it forces me to be a generalist. On any given day I could be asked to jump in on any given subject. I enjoy that. I get to learn about everything. I like the kind of 'now' aspect of it. I like trying to meet deadlines, 24-hour deadlines.

What are your other interests?

I read a lot. I am a fairly indiscriminate reader. I love to be fascinated by stories that capture my imagination -- mystery, science fiction or thrillers. I love New York City. It is probably my favourite place in the world. I love being out and about the city when I can. I like being here.

How long have you organized SAJA conventions?

I did four of the last five SAJA conventions, the first and the second, the fourth and the fifth.

The point of the convention has always been how we can best serve membership, bring them together and provide access to the most interesting speakers and some very good skill-based workshops. We are a forum where people can learn hands-on to become better at whatever aspect of the craft they practice. It is a forum for conversation, to talk about issues not only in journalism but also issues about South Asia, coverage of South Asia in the Diaspora.

What have been SAJA's achievements in 10 years?

It has created a community, which is probably the most important thing from my perspective. When I first started journalism, there were not a lot of South Asians, it did not seem that way to me. It was wonderful to come across SAJA and talk to people and know there are other people who came from where I came from. In terms of journalism, it advocates for better and fairer coverage of a very important region of the world and its Diaspora community.

I remember reading about people lending out their couches at the time of the SAJA convention. What are the strengths of the organisation, and what more needs to be done?

One of our strengths is we try hard to make being a part of SAJA a personable experience. It's important for us that people feel connected. We try very hard to make connections to encourage network. We care very much about the region of the world that we are focused on. We are focused on the community that we are part of and we are very focused on getting them accurate coverage that we feel they should have.

What are the areas you as SAJA president will work on?

An issue for me is that we are completely volunteer-run, which is great, which says something about how important SAJA is to people. But for long-term success, we need to move toward paid staff to ensure the smooth functioning of the organization. There have to be 9-to-5 people who will be dedicated to seeing SAJA run. We need to increase fundraising. It is important to do what I can to help us get to the point where the programs continue to run smoothly for years.

You have an author's night in March that will raise money for reporting fellowship. Why not give the money to the tsunami victims instead?

There is an unprecedented amount of money that has come in since the tragedy happened. Billions of dollars. We did an event in January where we gave the proceeds to some organisations. But as a journalist group, we feel the way we can do the most good is to make sure the eyes of the world are focused on this area. More often than not, whenever there is a tragedy, people care and pay attention and give their money until the eyes of the world move on to the next story.

We feel as a journalist group, we can do the most good by creating opportunities for reporters to go and keep the media attention focused on a region so that people care about it for long.

What is the biggest impact SAJA has made?

The response to the tsunami is an example of how we were able to put together a huge amount of resources. We were able to connect a lot of people and their resources and community groups.

I tend to think a lot of what we do is good. The scholarships are important. The reporting fellowship will be very important. The convention -- I am biased as I organised it -- is helpful for a lot of SAJA members. The SAJA journalism awards are important. We do a lot with different people that provide value in different ways.

We have been a forum for so many South Asian authors to come and connect with people who want to read them. Everything we do is really meant to be helpful. It depends on whom you are asking.

Photographs: Paresh Gandhi

Image: Uday Kuckian
The Rediff Interviews