Home > News > Specials

The Rediff Special/Onkar Singh in New Delhi

Six years, eight days, and a hijack hero

December 27, 2005



Every year, the eight days from December 24 to December 31 keep one Indian Airlines deputy general manager edgy.

Six years ago, it was these eight days that Captain Devi Saran was on board Flight IC-814, which was hijacked on its way from Kathmandu, Nepal, to the Indian capital.

Saran was the commander of the ill-fated flight, the passengers of which were freed in exchange for New Delhi's release of three dreaded terrorists.

"Last year, I flew on an international sector (on December 24) so that my mind is free from those sad, painful memories," he says.

Life has moved on for Saran. The older of his two daughters is in class XI now, and the younger in class VII. In his own words, "we have a comfortable family life."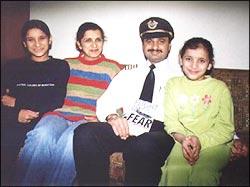 "Yes, things are now looking up," he says. "I am deputy general manager in my organisation, which I have served with distinction for 18 years. The promotion has nothing to do with my handling of the hijacking. It is something that has come to me in due course."
Saran joined Indian Airlines as a co-pilot. "I was co-pilot for six years before I was made captain of a Boeing 737 in 1993. In 1997, I was made commander of an Airbus."
But some things remain. Like the feeling of being responsible for 186 lives. And the broad smile that gave courage to his crew and passengers during the most difficult time of their lives.
Saran was given a hero's welcome when the Indian Airlines relief plane landed at the Indira Gandhi International Airport on the night of December 31, 1999.
'They had a gun at my neck all the time'
"Everything about life is good, but how can I forget even a single minute of the flight? When I recall the hijack, memories flood my mind as if it happened just a couple of months ago," he says.
"I am in regular touch with some of the passengers and we share our thoughts occasionally."
Two television channels, Discovery and National Geographic, are making documentary films on the IC-814 hijack.
"Thanks to you (Onkar Singh), the producers of both the television channels called me up and asked me some questions about my experience as commander of the aircraft. I am now waiting for the shooting," Saran says.
Would he fly with the IC-814 crew again, if destiny brought them together on the same flight?
"When we -- the crew members of the flight -- sit together, we recall the incident in detail, and sometimes we laugh as well," he says.
"I do not remember if the same crew has flown together after the incident. But if we all come on the same flight at some stage, I would not hesitate to fly."  
Photograph: Courtesy Captain Saran's family
From the rediff.com archives:
The Nightmare of Flight IC 814
The IC 814 hijack, one year on
The Rediff Specials


What do you think about the story?








Read what others have to say:





Number of User Comments: 6








Sub: Salute the hero but not at the cost of others

What Mr. Devi Saran did as captain of the illfated flight was really marvellous - well it really takes guts to stand up in such ...


Posted by Shivkumar









Sub: Six years, eight days, one hero

No mention of the man who died? We're quick to honor the 'hero' alive. What heroism? What about the one man who died? When I ...


Posted by David









Sub: Six years, eight days, one hero

No mention of the man who died? We're quick to honor the 'hero' alive. What heroism? What about the one man who died? When I ...


Posted by David









Sub: 6 Years

Well,there has not been a single year on Christmas Eve when I haven't thought about 24 December 1999.It was a humiliation for all Indians.Great to ...


Posted by Harsha









Sub: respect

I haVE TO CONGARTULATE captain for his courage, control over his mind and emotions during the ordeal.Hats offf to him. I am so ovewhelmed that ...


Posted by vinayak v moghe






Disclaimer