Home > News > Report

Vehicle blown up at IAF airport in Srinagar

Mukhtar Ahmad in Srinagar | December 23, 2005 12:27 IST
Last Updated: December 23, 2005 21:44 IST



A huge explosion was reported at Srinagar's old airport -- used by the Indian Air Force -- on the outskirts of the city.

Inspector-General (Kashmir Zone) K Rajendra said there were no casualties.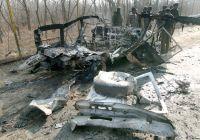 A Tata sumo vehicle, carrying three apple boxes concealing explosives, was blown up outside the Jakli Centre of the army at Old Airfield road at around 10.15 am, the sources said. 
However, there were no injuries as the driver was outside the vehicle, making an entry in the log book maintained at the entrance of the centre, the sources said adding, the driver has been detained for questioning.
The entry of the vehicle into one of the most secured defence installations in the state has given rise to many questions on the security arrangements at these places.
The old airport is being used only by the defence forces and VVIPs visiting Kashmir.
The area has been cordoned off.
With PTI inputs