Home > News > First Look


Sonia turns 60 sans celebration

December 09, 2005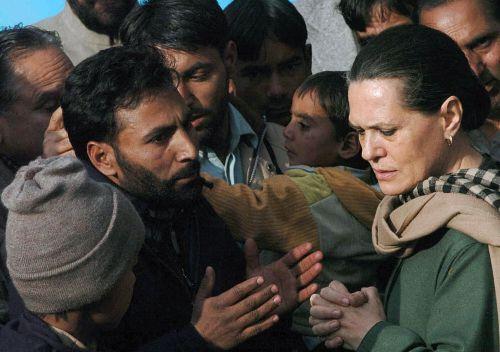 Congress president and United Progressive Alliance Chairman Sonia Gandhi turned 60 on Friday.
Keeping with her decision not to celebrate any national festival or her birthday this year to express solidarity with the victims of the October 8 earthquake.
She visited Jammu and Kashmir's quake-hit area Sultan Daki, 120 km northwest of Srinagar.
Wearing the traditional Kashmiri Pheran in green and with her head covered with a cream colour shawl, Sonia flew to the forward areas of Poonch, 250 km northwest of Jammu, to spend three hours with the tremor affected people.
She later flew to the forward area of Uri in north Kashmir where large-scale devastation had taken place in October earthquake.
The Congress also did not organise any celebration.
This is her second visit to the quake-hit areas. She was the first national leader to visit the quake-ravaged areas in Kashmir on October 8.
Sonia with quake survivors in Sultan Daki
Photograph: Sajjad Hussain/AFP/Getty Images


What do you think about the story?








Read what others have to say:





Number of User Comments: 8








Sub: Happy Birthday

Please accept best wishes for the day, and for many long and fruitful years ahead.You have truly shown the a spirit,different from others.Infact in the ...


Posted by partha biswas









Sub: mam its time to retire

hello congrats sonia this is the age of retirement now and let some young people to come forward. we love to see rahul aur priyanka ...


Posted by ankur singla









Sub: Wishing her a very happy B'day

Soniaji, I wish you a very happy B'day. For all the political changes in last 1 and half years, i think the credit goes to ...


Posted by Vijay









Sub: Sonia Mahaan wish good luck

Sonia Mahaan wish her good luck


Posted by Drpermanas









Sub: Sonia Turns 60

Happy birth Day Sonia. You are destined to serve this country and you are doing a good job. Thanks for serving my country.


Posted by Subhash






Disclaimer