Home > News > Diary

Uttam Ghosh and Dhiraj Shetty | January 16, 2004 00:54 IST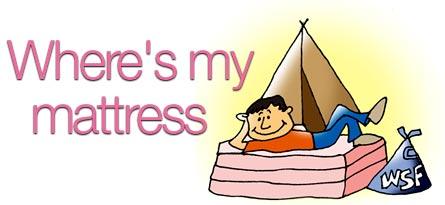 People of Mumbai are pretty generous when it comes to guests. Relatives and friends can be put up at home for a few days, people attending business gatherings can be accommodated in hotels and crowds for political rallies do not stay for more than a few hours.
But what to do when the number of guests is expected to cross 100,000? Forget getting a room in any hotel in the metropolis even dormitories, hostels and vacant grounds are full.
Organisers have made arrangements to accommodate about 15,000 people in tents in a couple of grounds near the NSE Grounds in Goregaon. One can understand that food, water and toilet facilities can be arranged, but where will you get so many mattresses and bed sheets?
Gujarat. Because large gatherings are not unusual there is what an organiser told rediff.com But please do not expect bed sheets, he added ruefully.
Swedish Painter

Jens Lindquist is not your typical WSF delegate. He heard about it from friends and decided to participate. He likes painting but waited tables at a hotel in his native Sweden to save enough money to attend the event. He was saddened to see the waiters in Mumbai. The money he earned in three months will see him through another five months in India. Can hardly say that of the waiters here.
NO ENTRY for epidemics
About 12,000 people will be accommodated in tents in Bangur Nagar, Goregaon. They will be provided basic facilities. But with so many people from all parts of India, what if an epidemic breaks out? Most of the residents being Indians, organisers are confident the chances are dim. Besides, they have medical teams in place to handle contingencies.
What's he saying?
With delegates from various states of India and several countries speaking several different languages, the organisers needed either a common language or a mechanism to translate speeches into various languages. They opted for the latter and came up with their own software. For those who still can't understand what the other is saying, there is always the sign language.
Brand loyalty
The Mumbai Resistance has organised a parallel session bang opposite the venue of the WSF, which it opposes.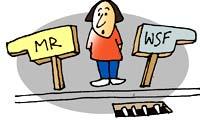 People's loyalties, we hear, were torn between the two and some actually decided to skip the WSF for this reason.
| | |
| --- | --- |
| | Also Read |
| | |
One person had actually come to attend the WSF but seemed to be aware of MR. When he heard about the MR meet, he immediately went to have a look. Let us hope these people who are known to be passionate about their views do not let their emotions cross the limits of non-violence.

Got the time for a protest, anyone?

Typically, a major meets attract all sorts. We mean, all sorts of protestors. But what happens when protestors themselves organise a meet? We'll keep you posted on this one.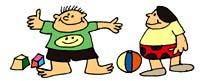 Baby, Mom's in a meeting
Meetings by now are de rigueur. But how many of you have been to one that has a crèche? Working in the social sector is not easy. Though the hours are long and irregular, women dominate the sector. So, a crèche should not be a surprise.
Rediff Diary
Write a Diary!