Home > News > First Look


Dying for a cause...

August 16, 2004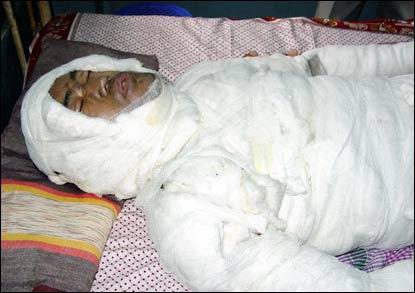 The body of 28-year-old Pebam Chittaranjan lies on a bed in a hospital in Imphal, the capital of Manipur, on Monday.
Chittaranjan, a student, had torched himself to protest against the Armed Forces (Special Powers) Act, 1958, which gives sweeping power to the armed forces in the northeast to detain and interrogate suspected terrorists.
Chittaranjan doused himself with kerosene and set himself ablaze August 15, India's  Independence Day to demand an end to an anti-terror law.
The law also lets troops shoot on sight and detain without warrant.
Photograph: STR/AFP/Getty Images


What do you think about the story?








Read what others have to say:





Number of User Comments: 3








Sub: sacrifice should not go waste

if someone in his 30's has sacrificed his life ,his sacrifice shouldnotbe wasted.ithinkthere is geniune reason for the centreto rethink abt this act as quickly ...


Posted by akhilesh pratap singh









Sub: Dying for a cause

Self immolation for a cause is not the only solution for this, he will be spoken for some time and then forgotten. The entire state ...


Posted by soundarya









Sub: Do you have sympathy with this young?

I have none. It might be correct from their point of view that anti terror action needs to be removed but once it will be ...


Posted by Sochak






Disclaimer