Home > News > PTI

Sena, BJP call for bandh in Mumbai on Wednesday

Vijay Singh in Mumbai | July 29, 2003 20:52 IST
Last Updated: July 30, 2003 02:07 IST



Unhappy with the Maharashtra government's inability to prevent bomb blasts in Mumbai, the Shiv Sena-Bharatiya Janata Party combine has called for a bandh on Wednesday to register its protest.

The two parties said the bandh would allow people to express their feelings about the repeated bomb blasts in the metropolis.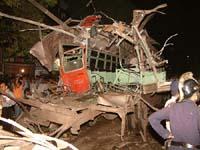 Monday night's bomb blast was the fourth since December 2002 and the second in the northern suburb of Ghatkopar.

At a joint press conference in the Shiv Sena's headquarters in Mumbai, the two parties directed their ire at Deputy Chief Minister Chhagan Bhujbal, who also holds the home portfolio in the Democratic Front government.

"People feel insecure. When they go out their homes to work, they don't know if they will return home safely. Our bandh will allow them to express their emotions," Shiv Sena working president Uddhav Thackeray said.

"We have called for a bandh only in Mumbai. If people in other parts of the state also observe a bandh, we will welcome the development," he said.

Medical stores, hospitals, ambulances, milk delivery vehicles, fire brigade and mediapersons have been exempted, the Sena leader said.

BJP leader Gopinath Munde criticised Deputy Chief Minister Chhagan Bhujbal saying working of the police force had been severely compromised as money had begun playing an important role in postings, transfers and promotions.

Leader of Opposition and former chief minister Narayan Rane alleged that 'most Students Islamic Movement of India members had ties with the Congress and Nationalist Congress Party (the main DF constituents), which stopped the government from taking action against them'.

On Wednesday evening at 1700 IST, the combine's leaders would meet with mediapersons at the BJP office to discuss the day's developments.


More reports from Maharashtra
Read about: Telgi case | Mumbai blasts


© Copyright 2005 PTI. All rights reserved. Republication or redistribution of PTI content, including by framing or similar means, is expressly prohibited without the prior written consent.






What do you think about the story?








Read what others have to say:





Number of User Comments: 16








Sub: Bandh Call in Mumbai

Bandh & Counter Bandh is not asolution. The solution lies on the polityical will to stop/end this type of activity with out looking at Vote ...


Posted by gcmitra









Sub: Why Call a bandh?

I dont understand what the leaders mean by 'the bandh would allow people to express their feelings about the repeated bomb blasts in the metropolis.' ...


Posted by Sam









Sub: concept of bandh is rubbish

ok..so one day ,few maniacs blow up a bus and other maniacs call a bandh. dont they realise .the blast has caused the society various ...


Posted by sunil vaswani









Sub: bandh - what does it accomplish

I am upset, angry and sad over the bombing incident, but declaring bandhs don't really accomplish anything. Honestly, what do they acheive, you hurt the ...


Posted by TJ









Sub: Problem of our law

The series of bomb blast had made people really unsafe. It is really the structure of our law policies that is responsible for this series ...


Posted by NS Manigandan






Disclaimer