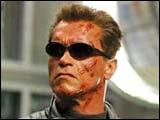 A young woman walks nude across the famed Rodeo Drive in Hollywood at night. Just as an alarmed woman driving a sports car offers to call 911, the nude blonde announces she likes the car. In a second, she is racing away in it.
The hijacking is the mildest of the blonde's destructive activities.

Meet T-X (Kristanna Loken), a technically advanced cyborg assassin with a computerised brain and an internal tracking system. The newly minted Hollywood villain is set on destroying people, particularly young John Connor (Nick Stahl), to pave the way for machines to dominate the world.
She also hates Terminator, the cyborg who is siding with the humans. 

T-X is one of the big attractions in Terminator 3: Rise Of The Machines, the $200 million sci-fi adventure that, according to many Hollywood experts, is one of the riskiest projects ever. It stars 55-year-old Arnold Schwarzenegger, who was a smash hit in the previous Terminator films but has not had a hit in about eight years. T2 was released 12 years ago. 
 
Short on the humour that made the first two Terminator movies guilty pleasures, and over-saturated with long drawn-out chase sequences, T3 nevertheless offers several muscle-tensing situations, a muscular Schwarzenegger and a relentlessly angry machine disguised as a tall and beautiful woman.

Schwarzenegger has fewer funny lines than in the last two films directed by James Cameron, but he still charms the audience with his deadpan expression and terse retorts.
He is not the first ageing actor who has tried to score a big comeback after several duds. Sylvester Stallone and many others did try earlier, but Schwarzenegger could be one of the few to succeed. News reports say he fit into the same costumes used in Terminator nearly two decades ago easily.

To the fans of Terminator and T2, many action scenes and many of the dialogues in T3 will sound familiar. They may also complain that T3 is nowhere as compelling as the previous ones.  

But T3's writers Tedi Sarafian, John Brancato and Michael Ferris and director Jonathan Mostow are to be praised for making the Terminator more realistic. There are many scenes in the film where we see him vulnerable and defeated. And his struggle to gain an upper hand over the glamorous and ruthless T-X is fascinating.
If only they had created a villain with more varied traits, T3 would have been more interesting.

As it is, though, there are several hair-rising scenes, especially one shows a couple running away in a car with the Terminator following them on a motorcycle and T-X tearing through on a 100-ton crane.

The film starts where T2 ended, with young teenager John Connor, who played a key role in forestalling Judgement Day and the destruction by Skynet's machines. Skynet, a highly developed network of machines, had once sought to wage a war on humanity. 
Stahl, who replaces a brooding but more effective Edward Furlong as Connor, is a major presence in the film.

Connor is leading an isolated life, aware of the dangerous machines that still want him destroyed. He has no home, no phone and no credit cards. He thinks he cannot be traced by Skynet, which had once tried to kill him.

But T-X has her own, utterly ingenious way of reaching him. Her plans involve the pursuit of Connor's former schoolmate Kate Brewster (Clare Danes), whose father (David Andrews) is a general in the US army and is in charge of the operation to prevent the machines from taking over the nation.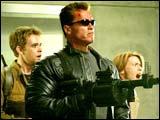 The biggest obstacle T-X faces is the Terminator who will engage her in awesome (but rather long) duels. Yet, there is some disappointment here. We do not see any substantial battle of wits between T-X and the Terminator. There is no cat-and-mouse chase or intellectual rivalry between the two.

And the less-than-surprising ending has clearly envisaged yet another sequel.
Given this, it will not be a surprise if T3 soars through the roof and becomes one of the most profitable films of the year.
Its super success may even change Shwarzenegger's political ambitions and the Republican Party in California may have to look for another gubernatorial candidate.
For those who complained The Hulk took a long time to offer action and special effects, T3 will offer torrential action in 110 minutes, with just a few minutes to peek into the emotional side of its characters.  
CREDITS
Cast: Arnold Schwarzenegger, Nick Stahl, Kristanna Loken, Claire Danes, David Andrews
Director: Jonathan Mostow
Screenplay: Tedi Sarafian, John Brancato, Michael Ferris
Distributor: Warner Brothers