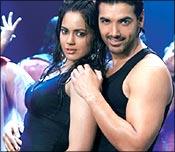 Another day. Another movie. Whose remake is this anyway? With originality reaching extinction point, guessing the root inspiration of a rehash seems like a fun thing to do.
The plot 'n' promo of Taxi No 9 2 11 suggest this could be desi mix 'n' match of Changing Lanes and Collateral.

I would love to be wrong though.
Sukanya Verma