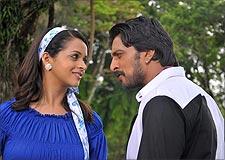 Shruti Indira Lakshminarayana feels that Kannada film Vishnuvardhana deserves a place on your weekend to-do list.
Is this film on the late actor Vishnuvardhan, or on the famous king Vishnuvardhana? The wait to find out the much-guarded plot of Sudeep starrer Vishnuvardhana is over.
Sudeep is Vishnuvardhana, a die-hard fan of the late Kannada actor. His lover (Bhavana), not surprisingly, is called Bharti (named after the actor's wife). Vishnu is faced with an array of tricky situations in his life and the film is about how he handles them with wit and presence of mind.
From scene one, the film is
paisa vasool
. The opening is a delight for both Vishnuvardhan and Sudeep fans. A stylishly designed fight and title track set the mood for the witty plot.
This is a well-packaged film with witty one-liners and comic situations. Screenplay writer P Kumar ensures that the plot doesn't get boring up to the interval stage. The second half stretches out and becomes a bit
predictable but the humour keeps boredom at bay. One is also spared songs and fights popping every now and then.
There are some engaging performances. Sudeep does a fair job and his comic timing coupled with that of Arun Sagar's is entertaining.
Sonu Sood is cast perfectly as the baddie, if only the dubbing matched up! Bhavana looks cute and pairs well with Sudeep.
It is only the role assigned to Priyamani that comes as a slight disappointment. A performer like her deserves a meatier role. 
Producer Dwarkeesh also essays a small role and uses it to convey his feelings for his actor friend Vishnuvardhan. The songs, barring the title track, are just passable. The climax also could have done with more punch.
If you're looking for actor Vishnuvardhan's real-life story, you are not going to find much of it in this film. But if it's just some entertainment you have in mind, this will certainly do.
Vishnuvardhana
deserves a place on your weekend to-do list. Go for it.
Rediff Rating: