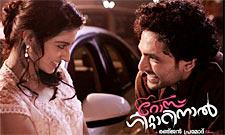 Malayalam film Rose Guitarinaal doesn't offer anything new to viewers, writes Paresh C Palicha.

The one thing that is essential in a love story is intensity. The other things fall into place if there is chemistry amongst the lead players.

Rose Guitarinaal is the new film of writer-director Ranjan Pramod, who had gone into exile after his first 2006 directorial venture Photographer 2006 was universally drubbed.

He is a writer with a magic pen and proven track record scripting for other directors so much is expected of his latest film.

Rose Guitarinaal is a love story in the classical mould with elements that today's viewers could relate to. But the foundation is shaky.
Tara (Athmeeya Rajan) is training to be an air hostess.

She comes from a poor family and was brought up by a single parent, her father (Jagadish), who has lost interest in life after being ditched by his wife but is pulling on for his daughter's sake.

Tara childhood friend Joe aka Appu (Manu) is also her bodyguard and driver from the beginning and has shared his feelings for her with everyone (including her dad and her dog)
but not with Tara, for fear of being laughed at.
There are two other blokes wooing Tara -- Binoy (Rejith Menon), who thinks that his money and charm can make any girl go weak at the knees, and Shyam (Richard Joy Thomas), who heads the company where Tara works.
To complicate matters further, Binoy and Shyam are good friends. Binoy keeps advising Shyam not to pursue a relationship with a poor girl and select someone to suit his status. Appu meanwhile begins to get cranky at seeing Tara being charmed by Shyam.
All this sounds energetic and promising but the film moves at a snail's pace and the actors' robotic movements and passive expressions add to the overall clumsiness of the film. Jagadish provides the only spark as far as the performances go.
Overall, Rose Guitarinaal is devoid of charm and offers nothing to entice the viewer.
Rediff Rating: