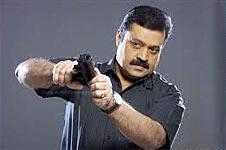 Paresh C Palicha feels Collector is yet another Suresh Gopi film. Post YOUR reviews here!
One step forward, two steps back; that is how you feel after you watch Suresh Gopi's
Collector
directed by old hand Anil C Menon. It just makes you wonder whether your optimism in the last few months that Malayalam cinema is getting its act together and striding forward, is misplaced.
 This film takes you back a decade or two when the hero was either an honest police officer or a headstrong bureaucrat who took on the corrupt system single-handed and came up trumps. The strong point of those films was that they were about some topical issue that was in the headlines. Even today, most of Suresh Gopi's films follow the same format.
In
Collector,
our man Avinash Varma (Suresh Gopi) is the descendant of a royal family working in New Delhi in self-imposed exile. The Chief Minister goes to meet him to request him to become the Collector and take the reins of the city of Kochi into his hands and end the lawlessness and mayhem created by the real estate mafia. The Chief Minister's reasoning is that Avinash is honest and
incorruptible, but above all, he has the blood of rulers in his veins, and will thus do a good job.
So, Avinash, the royal heir, starts his rule. His first target is the builder who is on a killing spree to grab land to build luxury villas and resorts. This means Avinash has to take on everyone on the builder's payroll -- police officers, bureaucrats, the mayor, politicians, ministers...
Suresh Gopi has spent a major part of his career doing such roles, so he has become good at the portrayal.
Aditya tries his best to be menacing as the gluttonous builder, but whether he succeeds or not is debatable. Anyway he is replaced by a more menacing, bald villain a little further on.
Baburaj as the corrupt police commissioner on the warpath with the collector is typical of himself.
Mohini as the mayor has a few scenes where she leaves her mark. Another female vying for our attention is Yamini Sharma playing one of the collector's trusted lieutenants.
To sum up,
Collector
is just another Suresh Gopi film that will be appreciated by his fans, but has nothing new to offer.
Rediff Rating
: