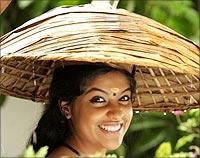 That Nostalgia is the surest way to win the audience's heart is a fact well understood by director Lal Jose.
Now combine that fact with the promise that this is a step towards the imminent revival of Malayalam cinema with the pumping of fresh blood into its veins. The director had used this formula successfully a couple of years back with classmates telling the story of campus life of the early nineties.
Now, he has gotten more ambitious by remaking a three decades old film Neelathamara scripted by Jnanpith award winner M T Vasudevan Nair. He almost succeeds.
Neelathamara tells the story of a teenaged housemaid Kunjimalu (Archana) who is besotted by the young progeny of her employers. It all starts with a flash back when Kunjimalu returns to the house of her former employer to enquire about the wellbeing of her former mistress Maalukuttiamma (Sreedevi Unni), an octogenarian who had short trip to the hospital. Here she meets Ratnam, the wife of her former lover Haridas (Kailash), and they start talking about their past.
Now they both are well settled. Kunjimalu has two daughters -- one a doctor and the other a teacher. Ratnam remarried after her first husband died of a brain tumour so there is no bitterness or animosity between them. Then the story leaps goes thirty years back -- this is where the actual tale begins. Kunjimalu takes a job in Maalukuttiamma's home as domestic help. Maalukuttiamma, a widow, is staying alone in her big ancestral home. Her son Haridas is a student of law in the nearby town, and visits her mother only occasionally.
The significance of the title is that that a blue lotus will bloom in the temple pond of the village if the deity in the temple is pleased by someone's prayer. The flower means that the prayer is granted.
Haridas returns home after the final exams and a game of seduction of sorts begins between him and Kunjimalu. Ultimately she falls for his charms and relents. She had prayed for his love and was blessed with a flower. Next she prayed for his success in exams and career; again she is blessed with a flower. He passes with distinction and gets a good job in the city. Then there is talk of his marriage to his cousin Ratnam (Samvrutha). It does not take Kunjimalu long to realise that she has been cheated as he avoids her.
The performance of newcomers Archana and Kailash comes very close to be called enchanting. Archana shows the class of a veteran displaying requisite vulnerability spontaneously. Her expressions and body language convey more than her dialogues. We just hope that this is just the beginning of a long innings. Kailash displays the haughtiness of the male of yesteryears who believes that he is a superior being. He may initially miss being a chocolate boy hero. But, he will surely come on his own as time goes by. Rima's role as Ammini -- Kunjimalu's sounding board -- is insignificant and not well chiselled as one would expect. Or was it truncated on the editor's table?
All in all, Neelathamara, is lush film without a solid core.
Rediff Rating: