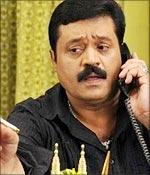 The adage that good things come in small packages proves to be true with M A Nishad latest Malayalam venture Vairam. The film does not boast of a stellar star cast (just a special appearance by Suresh Gopi) or any other gimmickry.
It stars Tamil actor Pashupathy in the lead. The film is just a plain and simple story of a father avenging the death of his teenaged daughter. But, the way the director has unravelled the story makes it horrific and touching at the same time.
Sivarajan (Pashupathy), a bank manager is transferred from Pollachi to Thodupuzha. His wife Devi (Meera Vasudev) is a Malayali and he is familiar with the language as he has worked in places like Palakkad before. He as a teenaged daughter Viaramani (Dhanya, who made her debut in critically claimed film Thalappavu). The father has lot of expectations from his brilliant daughter. He wishes to see her as a doctor, a dream which he himself could not fulfil. The daughter also works hard to fulfil her father's expectations.
The story begins with Sivarajan getting punishment of life imprisonment for killing Josekutty (Jayasurya). The events take a dramatic turn when an attempt on Sivarajan's life takes place outside the court after he comes out hearing his punishment.  This arouses the curiosity of a young journalist Annie Joseph (Samvarutha Sunil) who goes on to dig the reality behind this curious turn of events. For this she takes the help of advocate Ravi Varma (Suresh Gopi, in an extended cameo), who was appointed as Sivarajan's defence lawyer by the court. This leads to unravelling of gruesome events which culminated in an attempt on Sivarajan's life.
Pashupathy's performance as Sivarajan is the pivot on which the narrative revolves. He is melodramatic as well as restrained as the situation demands.
Cheriyan Kalpakavady's screenplay gives him the scope of showing a gamut of emotions. Some of the events in the nuclear family shown here remind us of Blessy as he has patented such scenes as his in his films.
Suresh Gopi is there as the star attraction portraying the role of a lawyer who is short of a genius, who remembers even the page numbers of law books. The banter between him and Annie in the beginning fulfils the entertainment quotient of this film. Even Mukesh comes in the end as an officer of crime branch does his job well and we can expect applause on his dialogues.
Jayasurya who is trying to expand his range by even taking up negative roles in the recent past does his job well with grey contact lenses and well toned muscles. Samvrutha Sunil proves to be good in her role. Her combination scenes with Suresh Gopi work well as there is an undercurrent of humour and romance in them. The combination of veteran actors Thilakan and KPAC Lalitha as Jayasurya's parents is worth mentioning here for the restraint shown by them.
In the final analysis, we can say that M A Nishad balances realistic and commercial demands of his story quite well.
Rediff Rating: