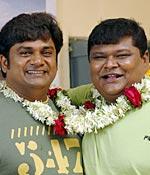 Director J G Krishna's Kannada multi starrer Aithalakadi has very little in it to make us watch it.
Starring Rangayana Raghu and Bullet Prakash, the film fails to excel in comedy as promised.

The film tells the story of Rangayana Raghu who aspires to be a film director. The story takes us through the struggles of Raghu, while all the while giving us a sneak peek into the Kannada film industry.
Bullet Prakash becomes Raghu's support system through his struggle period. While Raghu clinches a project, his promising career takes a downward turn when a melodramatic incident takes place in his personal life. Will Raghu give into the odds and fall short of achieving his long cherished dream of becoming a director?  Bullet Prakash's guarded past and Neettoo's craze for actor Ravichandran are the sidelights of the film.   

In an attempt to showcase the industry as one big happy family, the film boasts of guest appearances from Sudeep, who dances to a number that talks of his Kannada and Hindi films; Vijay, who flexes his muscles; Jaggesh who shines in a song and Ravichandran who plays his superstar self. Even Darshan appears in a brief role.

Though Neettoo, who plays a flower seller, is the leading lady in the film, hers is also no more than a cameo. However she is okay as a starry eyed Ravichandran fan.

A host of comedians and newcomers also come and go but there is very little contribution from their side. In fact these special appearances come as an unnecessary distraction to the plot. Raghu is one actor who manages to hold his own despite the chaos.

The hurried climax in which Vijay Raghavendra appears is also unjustified. Some more time could have been dedicated to Bullet Prakash's flashback track.

Sadu Kokhila's music has nothing much to offer either.

The film rests on an interesting story line, if only the narrative backed the plot.

Rediff Rating: