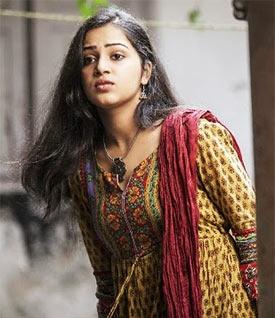 A film like Vegam would succeed if the viewer has someone to root for, but nothing of that sort appears in the story, says Paresh C Palicha.
How many times can you see a film about two youngsters struggling to make ends meet, then in desperation making a fast buck by taking the wrong path and suffer because of that?
At least half-a-dozen successful Malayalam films have used this plot. New director Anil Kumar K G tries to cash in on this formula in his film Vegam.
Two friends, the fair complexioned Sidhu (Vineeth Kumar), and the dark skinned Daavid (Jacob Gregory) are roommates in a slummy locality. The former is a pizza delivery man and the latter is a door-to-door salesman hawking a fancy chappati maker. Daavid provides the humour.
Sidhu is in love with the daughter of his Gujarati landlord. So, he needs to get rich quick, and joins a hawala racket run by a notorious gangster Murugan (Shammi Thilakan). He takes one false step and many lives go into a spin.
The director, who is also credited with the script, tries to make it interesting by adopting a non-linear format to tell the story.
But the film essentially lacks a heart. One feels that the core component is sacrificed for the sake of keeping it crisp. Such films would succeed if the viewer has someone to root for. Here we do not have anything of the sort.
Even Sidhu's romance is fleetingly shown and we are not sure if he is serious about the relationship.
Had the characters been etched with a little more care, the film would have been in a different class.
Even the supporting characters led by Prathap Pothen and P Balachandran hardly make an impact. The former plays a Gulf returnee who becomes a victim of the protagonist's action.
On the whole, Vegam turns out to be a heartless adventure.
Rediff Rating: