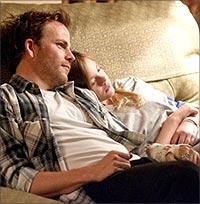 Elvis D'Silva reviews Somewhere. Post YOUR reviews here!

An open desert road, all is quiet and then...a shiny black Ferrari sports car zooms into, and out of, the frame. As the moments pass we realise that the road is circular and the car goes around several times before it stops and the driver climbs out. This is Johnny Marco (Stephen Dorff), a fictitious Hollywood actor, in writer-director Sofia Coppola's latest movie. And this is how the movie begins.

The movie is called Somewhere and the synopsis suggests that it is about how "a hard-living Hollywood actor re-examines his life after his 11-year-old daughter surprises him with a visit."

Quite honestly, there isn't that much evidence of hard-living in this movie, especially not when global audiences have been treated to the excesses of the movie star lifestyle in multiple seasons of the television show Entourage.

Sure Johnny drives an expensive sports car but then what movie star doesn't? He doesn't live with the mother of his child so the daughter visits him periodically. Again, is this so new or dangerous? Sure there is always the prospect of sex with ready, willing and able young women but that is not really so shocking either, is it?

So he has a few drinks, is visited in his room by identical twin strippers and is on fairly good terms with everyone save for the mysterious person who sends him angry text messages. This is hard living?

Even his daughter Cleo (Elle Fanning) seems fairly well adjusted with the idea of her father being a permanent resident at the legendary Chateau Marmont hotel. When he has to promote a movie overseas he takes her along so that they can spend some more time together before she has to go to 'camp' for a few weeks. This involves sampling the hotel's various flavours of gelato in the middle of the night and swimming laps in the swimming pool attached to their suite!
Everything is filmed in a deliciously old-world colour palette by cinematographer Harris Savides, giving the whole movie the feel of lazing around on vacation. And while neither the performances nor the story (if you can call it that) are particularly objectionable, it is difficult to see how this movie won the Golden Lion at the 2010 Venice Movie Festival.
Any insinuation at all that this might be what it was like for the young Sofia while she was growing up around the chaos of her phenomenally talented father's life is a major insult to the legend.
Or perhaps she was really so far removed from the events in his life that she had no idea of how important or transformative his work was. Either way, this movie is strictly for Sofia Coppola filmography completists.
Rediff Rating: