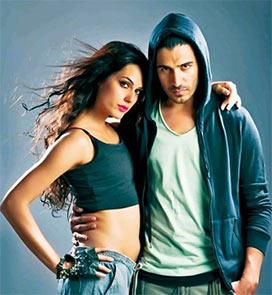 The Mad About Dance soundtrack is not as wholesome as the other dance movie ABCD: Any Body Can Dance but it has its moments, writes Joginder Tuteja.
A film with newcomers, no real backing from an established production house or a hotshot director, usually doesn't get noticed.
But with Shah Rukh Khan announcing his support for the film, Mad About Dance has caught everyone's attention.
Choreographer-cum-director Farah Khan has also expressed her interest in the film, so one looks forward to what Saahil Prem has to offer as actor and director.
The Mad About Dance soundtrack has a classy beginning, with the serene notes of the piano setting the stage for Krishna Beura to lend his vocals to Ishq Da Bukhar. The composer of this likeable Punjabi number is Vidyadhar Bhave (who has also written the lyrics).
Amrit Maghera joins in behind the mike. She is the film's leading lady, but shows her prowess as a singer, delivering her lines in English impeccably. This one is a surprise start to the album.
The next is a dance number Party Is Going Mad. Sangeeth-Siddharth play the triple role of composers, lyricists and singers.
Though it aims to be peppy, youthful and funny, there is something amiss. One has heard better party numbers and even though singers Divya Kumar and Vidyadhar Bhave bring in the right energy, the end result is just about okay.
Saahil makes his debut as a composer in Kahan Hai Khuda. Subhash Pradhan sings this in a way that is reminiscent of the magic of Atif Aslam.
A well worded number by Manoj Yadav, it has a smooth flow and minimal instruments in the background. It deserves its repeat placement in the album with a 'dubstep' and 'remix' version, both of which feature Vidyadhar Bhave.
Punjabi Mundeya is composed by Dr Zeus and written by Vijay Singh Shekhawat. The way it begins, one is reminded of RDB's popular Aloo Chaat. The similarity ends there, as this one turns out to be a good cocktail of videshi and desi music.
'Lil' Shorty' raps in the beginning portions, but it is remarkable to see new entrant Ravindra Upadhyay singing like Sukhwinder Singh in terms of style as well as pitching. If this jugalbandi is picturised well, Punjabi Mundeya has potential to be huge.
Mad About Dance is a pleasant surprise. Though the soundtrack is not as wholesome as ABCD: Any Body Can Dance, which was also based on dance, it has its moments.
Rediff Rating: