Call it the salon style of character development, but it is clear that master filmmakers Joel and Ethan Coen have discovered the unlikeliest method of quirky personality creation: the weird hairdo. Right from Nicolas Cage's miraculously widespread wop in Raising Arizona to Jeff Bridges' Saint Bernand tresses in The Big Lebowski down to Javier Bardem's unforgettable Chigurh-cut in No Country For Old Men, they've created the mad hair, and the bizarrest characters have followed.

In Burn After Reading, prepare to be bowled over by Chad, the man with a ridiculously botched highlight job. And he's played by Brad Pitt.
Looking more like his cartooned Cool World avatar than anything he's ever played, Brad hunts for a health drink, ducks down to check his reflection and his hair in the microwave, and then pops up with a little slip of yellow paper, the contents of which he deems adequate for blackmailing a CIA agent. His character, Chad, is a dumb, dumb semi-blonde gym trainer. So gloriously moronic is this buffoon, and so completely does Pitt give himself over to the idiocy, that we have yet another stupid-hair'd Coen-man for the ages.

And that's not all.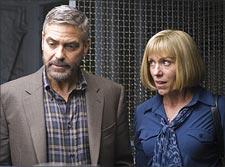 Burn After Reading has a cast that sparkles with obvious brilliance -- a cast that includes John Malkovich, George Clooney, Frances McDormand, Tilda Swinton, Richard Jenkins and JK Simmons -- and, when they are poured into their freakishly flawed characters and given the madcap sweep of a film where anything can happen, we end up with a bitterly fun film that the Coens could possibly have written in their sleep. Characters overcome plot and reality constantly, and the brothers here seem to have etched out a perfect bunch of oddballs and then let

them tango all over the script. And it's not a dance everyone will enjoy.

Because calling them 'flawed' is an understatement. There is Brad, playing the aforementioned fool; Clooney, playing a compulsive ladies-man well in touch with his perverse side; Malkovich as a disgruntled former CIA man having trouble keeping drinking and temper in check; McDormand as an Internet-cruising woman desperate for a few cosmetic surgery operations; Swinton as an icily cold shrew and the pediatrician from hell; and Jenkins as a former priest and gym manager longingly carrying a torch for McDormand. All this while, JK Simmons and David Rasche play the CIA men watching over all the madness, and they have as much trouble untangling the nonsensical, elaborate plotlines as we do.

The farce isn't ha-ha funny, and the Coens don't like obvious punchlines. The humour here comes from shock and outrage, as a character loses his cool over the phone or as another heads to the Russian Embassy in an attempt to spite the CIA. The Burn After Reading gang is a nightmarish lot, people with deep character flaws and hardly anything to redeem themselves, and Joel and Ethan do well to not linger on any of them too long, while the actors do such a bang-up job -- and seem to be having such fun -- that they stay with us longer than the film itself, one that ends up eventually a bit too disconnected and aloof from its players.

There's always been a broad streak of nihilism running right through the brothers' work, and while this film occasionally loses steam because it gets too sectional, too disjointed, it never loses sight of the bleakness. These are characters who attack each other both with verbal barbs and actual axes, and that isn't at all the scariest thing they do. It's more than a trifle disturbing if you think about it, about just how pathetic and evil and vicious and self-absorbed these characters really are, but the film breezily swishes from ordeal to ordeal so simply and unspectacularly that we don't have time to really feel for these nutjobs. We enjoy them and are even awed by their detailing, but they don't stick around long enough to actually evoke emotion.

Good thing, too. This would be the year's single most miserable film -- if it wasn't one of its funniest.

Rediff Rating: