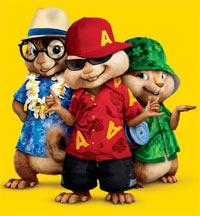 Shaikh Ayaz writes Alvin and The Chipmunks - Chipwrecked is a mediocre effort.

The third in the Chipmunks series, this current CGI adventure is like a colourfully-illustrated storybook which might barely crawl into children's literature category but is just about as silly and annoying to an adult as an obstinate brat on-the-loose.

Mildly put, it's for our really, really tiny friends who might find the chipmunks cute (and cuter still for those who have seen them before) and wish to befriend them.

The singin' squirrels are lost at sea a la Cast Away and much of Mike Mitchell's Alvin and The Chipmunks - Chipwrecked is spent on an island that's in the eye of volcano.
Alvin, Simon, Theodore and the Chipettes (Brittany, Jeanette and Eleanor) get separated from their daddy Dave (Jason Lee) and Uncle Ian (David Cross). With no roof over their head and nothing to eat (except a mango, causing them to behave like "animals"), they light fire, build a new home and adapt to their new surrounding with zest.
With the Chipettes around, there's scope for romance. A spider bite turns Simon into Simone, an amorous, French-speaking daredevil (Alvin floors a mademoiselle in the Squeakquel) who uses this opportunity to express his love to his amie.
The Simone track, in any case, is inconsequential to the plot. But it is, perhaps the closest you would come to having fun in this film.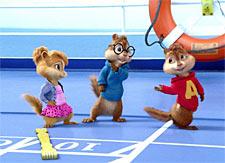 Simone is endearing and has the sort of energy and irreverent humour that the movie lacks. An insipid treasure hunt subplot fails to pump any kind of suspense and thrill that could have made it enjoyable -- if only slightly so.
As a viewer, particularly an adult one, one looks for mirth and in that desperation, finds even David Cross' Chipmunks-hater Ian, the dullest character sketch in recent memory, massively funny.
If you watch any of the Alvin trilogy, you won't be able to tell one from the other. Its writers don't think hard enough and seem to rely too much on the Alvin brand, which they know ensures financial returns no matter how mediocre their effort.
This one, in particular, is given a nursery rhyme-like treatment. They think our kids are stupid and it is this assumption that prevents the Alvin flicks from getting better and becomes, instead, the very reason for much of what is broadly wrong with children's movies in Hollywood -- especially those that are made with a covetous eye on the ripe, festival season spoil.
Rediff Rating: