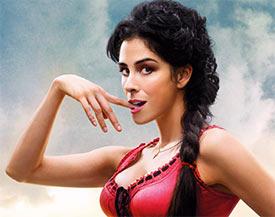 A Million Ways To Die In The West could have done better with more editing and less Seth McFarlane, says Paloma Sharma.


'From the guy who brought you Ted,' reads the top of the poster.

That's just the beginning.
You really should stick around for the titles after this one. They speak a lot louder than anything the film itself will ever manage to say.
But in case you have to get back to work/get home/run for your life because your survival instincts kick in, let me sum it up for you.
A Million Ways to Die in the West is co-written, directed and produced by the man who also plays the lead -- Seth MacFarlane.
If you've watched MacFarlane's Family Guy, then you know what kind of humour to expect, if one can call it humour.
There is no dearth of jokes revolving around reproductive organs, excretion and bodily fluids -- both human and otherwise -- and though the film does have funny moments, they die off pretty quickly.
The film stars a visibly uncomfortable Seth MacFarlane as Albert Stark, a sheep farmer, who lives with his parents in the border town of Old Stump, Arizona in the year 1882.
Apart from (unsuccessfully) herding sheep, Albert can also be found avoiding gunfights and growing a moustache, and courting his doe-eyed, blonde girlfriend Louise (Amanda Seyfried).
However, Louise decides that she's had enough and leaves Albert -- who doesn't quite fit the conventional standard of masculinity -- for Foy (Neil Patrick Harris), who does.
Alone and heartbroken, Albert chances upon the new girl in town, Anna (Charlize Theron), and the two get closer as time passes.
But Anna has her own secrets.
When her trigger-happy outlaw husband, Clinch Leatherwood (Liam Neeson), rides into town looking for her, Albert must decide whether he wants to run away as he always does, or step up and fight for the woman he loves.
Although this is clearly a vanity project for Seth MacFarlane, it is Charlize Theron who is the real star.

Theron is clearly limited by the script (which, I assume, is a bundle of sticky notes and scribbled-on tissue papers stapled together) but she has brilliant comic timing and manages to remain convincing despite the flawed set up.
Liam Neeson makes for an unlikely bad guy -- especially since he gives off such fatherly vibes to pretty much every girl who ever watched Taken -- but he does make you believe that he'll put a bullet in Albert Stark without batting an eyelid.

And sometimes you wish he would.

MacFarlane is awkward as a leading man. Even though he's supposed to be playing the town misfit, he doesn't seem to be able to pull it off. He could, though, if he'd just lose the smirk.

Furthermore, there's no explanation for why people at a tavern in 1882 are talking like people at a bar in 2014.

A lot of the jokes seem misplaced while others are unnecessary and downright gross. Some are lengthy and recurring and you wait for them to build up to something of significance. But they don't.

The obvious gaps in the script and excessive, sometimes quite pointless scenes make you wonder if this was a planned project or if someone just decided to go the Jack Sparrow way and make it up as they go.

A Million Ways to Die in the West boasts of some wonderful visuals, thanks to DoP Michael Barrett, who turns even the dry desert sands into a thing of beauty.
The film pulls through because of strong performances and high quality production design. It's good for a chuckle here and there but other than that, you wish it would end quickly.

Better editing might have lessened the damage, but nothing could have salvaged this film except, perhaps, stuffing MacFarlane back into the bear suit.

Rediff Rating: