Amol Palekar's bilingual film Quest is not for light entertainment.
Based on a lesser-explored aspect of sexuality, it forms the third part of the director's trilogy – following Dayraa and Anaahat. Quest may make you shift uncomfortably in your chair. It may sadden you. At times, it may even get preachy. What it will definitely do, however, is leave an indelible mark.
The film opens with lawyer Sai (Mrinal Kulkarni) catching her chef husband Aditya (Rishi Deshpande) indulging in a homosexual act with her friend Uday (Shishir Sharma). Her rose-tinted glasses are ripped off suddenly and she wallows in grief.
Sai and Aditya have had a happy 11-year marriage. They have an 8-year old son Nilay (Shreyas Paranjpe) and things have seemed normal, until now. Aditya and Uday have been having an affair for over two years, but Sai has never smelt a rat. When the truth it finally out, their life becomes a sordid mess. Aditya, already confused about his sexuality, now has to deal with the possibility of Sai leaving him. She may be progressive and understanding, but still finds it hard to forgive him and accept his homosexuality.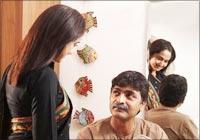 Sai's conversations with her mother (Vijaya Mehta) and Aditya's father (G P Deshpande) are heartrending. Although they carry a lot of information, they have been weaved into the story well. Sandhya Gokhale's screenplay and dialogues flow like a river. If only film editor Amitabh Shukla had kept the story crisp and shorter, it would have been harder to get distracted.
Unaware of the fact that her daughter's husband is involved with a man, Sai's mother tells her that ignorance is sometimes bliss.
The film talks about the taboo associated with homosexuality. When one cheats, does it matter if it's with a man or woman? Questions like these are raised by Palekar as the story unfolds. He talks about how homosexual isn't a disease, but a sexual preference. Homosexuals need companionship too, and someone to go home to.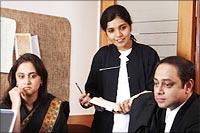 Rishi Deshpande's portrayal of a bi-sexual trying to find himself is excellent. His confusion about his sexuality is aptly reflected in his expressions. What makes the three lives go haywire is his inability to take responsibility and make a decision. Nilay (Shreyas Paranjpe), who plays Aditya and Sai's son, is adorable, bringing light moments to an otherwise heavy film.
Amol also tries to blend in topics like HIV, mercy killing and divorce, among others. This is where the film could have been crisp. If avoided, it would also have kept the focus on the subject.
Having said that, Quest is wonderfully made. The subject is well handled, with no vulgarity. One wonders if audiences will lap it up, but it will certainly do well at film festivals.
Rediff Rating: