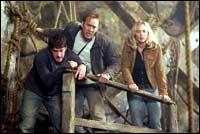 S
ome viewers may not even want to debate the potholes and the corny plot devices in
National Treasure
, wanting to bury the movie real fast. This film certainly wants to be an Indiana Jones type of adventure but its inept script and lack of heartfelt situations do not help it in the least.
But those who love silly, fast-paced adventures could find plenty of fun in it.
Producer Jerry Buckheimer, famous for glitzy, expensive but soulless hits such as
Pearl Harbour
that earn enormous amount of money worldwide, could have yet another international hit in
National Treasure
. Unless his extraordinary luck runs out, which is a difficult thing to imagine. For, even his much derided
King Arthur
, which was a big disappointment in America with a $50 million gross, has captured an impressive $150 million abroad.
In
the current treasure hunt extravaganza, Christopher Plummer depicts in flashback scenes how some crusaders plundered ancient treasures that eventually reached America's Founding Fathers, who hid them around the time of the revolution to overthrow British rule.
Flash forward to the mid 1970s and Plummer's character tells his grandson, Benjamin Franklin Gates, that a clue to the missing treasure, now worth billions, was left with one of their ancestors.
The grandson never forgets the story and nearly three decades later Ben (Nicolas Cage) has started the hunt for the clues, with the help of a sponsor, Ian Howe (Sean Bean).
But the two part company when they have to inspect the Declaration of Independence for further clues. Ben is against the idea but Ian is convinced that it is worth stealing the document so he can examine its back to find a treasure map drawn in invisible ink.
When Ben tries to warn the FBI of Ian's plans, he's dismissed without a proper hearing. In fact, he is even thought to be a crackpot. Ben decides to steal the document with the help of a sidekick Riley (Justin Bartha), so that Ian can't use it for his selfish purpose.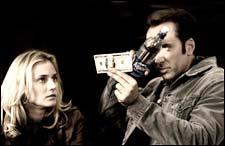 Ben escapes not only with the document but also with Abigail Chase (Diane Kruger), an alluring restorer from the National Archives, following in his heels.
Pursued by Howe and his thugs and wanted by the FBI, Ben and company fight through car crashes, explosions and helicopter chases.
An FBI team led by Harvey Keitel also wants to collar Ben who, by now, has become America's most-wanted thief.
Ben has hardly any allies except Riley and Abigail initially but he also seeks the help of his father (Jon Voight) who is not interested in joining his crusading son, at least initially.
By the time the movie has ended, audience have had a good look at Library of Congress and other monuments in Washington, DC, then the Liberty Bell, Independence Hall in Philadelphia and Trinity Church in Manhattan.
But scenery and high velocity apart, the movie doesn't have many hair-raising sequences. And it comes short in the acting department, too. Cage is capable of better work. Kruger looks as lifeless as she did in
Troy
. In comparison, Bartha and Voight have better acting moments.
CREDITS

Cast:
Nicolas Cage, Diane Kruger, Justin Bartha, Sean Bean, John Voight and Harvey Keitel
Director
: Jon Turteltaub
Writers:
Jim Kouf, Marianne Wibberley, Cormaca Wibberley
Running time
: 130 minutes
Rating
: PG for violence, images of skeletons