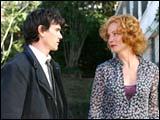 For four weeks, director Tim Burton's Big Fish has done excellent business in limited release, grossing $8 million, but the real test of its popularity will come on Friday when the film, which has received mixed reviews, will cast its net wide.
It was the 12th highest grossing film in America over the weekend, earning $2.5 million in just about 125 theatres. This Friday, it will be in more than 2,500.

Given the film's seemingly uncommon nature, which examines the relationship between parents and a son, while also celebrating the tall, unbelievable stories the father spins, distributor Columbia decided to give it a limited release, hoping for strong word of mouth.

The question is how the bigger pool of moviegoers will react. Columbia certainly expects the film to get solid Oscar nominations. If the film opens big on Friday, its Oscar nomination chances would be stronger. Giving the film three-and-half stars (out of four) in Chicago Tribune, Michael Wilmington thought the film was 'so strange and so literary that audiences seeking conventional fare may get impatient with it.'

'But it always takes effort to catch the big ones,' he added. 'This one is worth it.' That would be what Columbia hoped too.


Not all films that open to big numbers in limited release will turn out to be winners. For instance, the Adam Sandler movie
Punch-Drunk Love
, which was also released by Columbia, did solid business in the first few weeks. But when it expanded to hundreds of theatres, it flopped instantly. The movie, which cost about $35 million, earned just about $18 million in North America and half that amount abroad.
Burton is one of the more successful Hollywood directors, but not every film of his has made money.
Ed Wood
, for example, was considered too dark, and collapsed in the opening week a few years ago. But this time, he could be fortunate, if the goodwill the movie has earned in four weeks reaches wide across North America.
His new film tells the story of a deeply flawed relationship between Edward Bloom (Albert Finney) and his estranged son (Billy Crudup). Bloom is a great storyteller, and many stories of his younger years (with Ewan McGregor playing the young Bloom) are fantastical. People find them endearing and entertaining, but his writer son disliked them for good reason.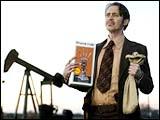 As Bloom is dying, his wife Sandra (Jessica Lange) tries to reunite him with his son. The son begins to quiz the father on the adventures that had taken Bloom across the world. But in the final reckoning, it is left to the viewers to decide what kind of a storyteller the senior Bloom was. Was he an incorrigible liar? Or did he believe in his own tales? What if the stories were true, never mind how sensational and tall they were?
Some critics warmly embraced the film, while some found it rotten. The supporters thought that while Burton uses lavishly designed sets and special effects to tell his story, he does not compromise on the emotional aspects of the film.
USA Today
's Mike Clark called it the best family film of the season and wondered why it had not opened wide in December during the holidays. He added, the 'fancifully sweet
Big Fish
has enough tasty bait to satisfy an array of moviegoers.'
New York Post's Megan Lehman found the film 'dazzling.' And Peter Travers declared in Rolling Stone: 'This marvel of a movie lives up to its buzz as an Oscar contender.'
Trade publication Hollywood Reporter slammed it as over-sentimental crap. Wrote Kirk Honeycutt: 'One long-winded tall tale illustrated with hammy, artificial sets and gee-whiz acting.' There was bad news for the film from The New York Times whose critic A O Scott called it 'unpersuasive and ultimately forgettable.'
Given the movie's lack of big names in the cast -- McGregor is hardly a box-office star -- it has to succeed only because of its emotional appeal and its success in enchanting the audience with its fabulous tales.

Taking the cue from the success of such films as Mystic River that are aimed at the more mature audiences, Big Fish might be yet another hit.