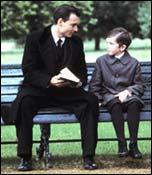 Never mind how many good biopics abound this season, the Johnny Depp film Finding Neverland can chart its own destiny, pulling the heartstrings of the young and old.

The moving, lyrical film proved last week that it has wider appeal than an art-house film by breaking into the top 10 chart after running in a handful of theatres in a few cities. Declared best film of the year by the 95-year-old National Board of Review, it will challenge other engaging screen bios including Ray and Kinsey for the Oscar nominations.

Director Marc Forster sprang a big surprise in 2001 with his gritty, tragic and yet delicately sentimental Monster's Ball. The $5 million film, fetched Halle Berry an Oscar, and became a surprise hit, earning about $60 million.
His new movie, Finding Neverland, very sunny in comparison, cost about $20 million. Given the mostly positive reviews it has received, it could earn much more than Monster's Ball. The Miramax-distributed film grossed $4.5 million in just about 500 theatres last weekend (while most films on the top list played more than 2500 theatres) and was placed at the eighth position on the box office chart.

The film, based on the play The Man Who Was Peter Pan, loosely revolves around the painful and yet colourful life of JM Barrie, the creator of Peter Pan. Some critics will fault the film, like they did with Ray, for being a straightforward, old-fashioned screen bio that does not fully expose the conflicted souls of its subjects in an existential fashion. And some have complained -- with justification -- that the movie offers a rather sugarcoated version of Barrie's life and the impact he had on the boys he befriended.  
But enlightened movie fans will still appreciate this beautiful and melancholic tale that stirs the soul.

While the film has already generated a lot of Oscar talk for Johnny Depp, one cannot ignore a raft of superb performances especially by the relatively unknown Freddie Highmore as Peter Llewelyn
Davies, and by Dustin Hoffman and Kate Winslet.
The movie wastes no time letting us into Barrie's artistic life. Barrie's play
Little Mary
flopped in London in 1903. Though his producer (Hoffman) does not seem to be worried, Barrie takes the failure to his heart and his bedroom.
There is already some tension in his childless marriage to Mary (Radha Mitchell) and Barrie seems to be oblivious to the fire in his gorgeous wife. The failure of his newest play creates more unhappiness at home.
Some people have wondered if Barrie was interested in little boys he had befriended, a notion the film firmly (and imaginatively) demolishes.
Among the many insights the film offers into Barrie's lonely life is the reference to his childhood. The playwright did not have a decent childhood, following the tragic death of his older brother. This caused such gloom in the house that young Barrie tried to cheer his mother by dressing in older boys' clothes.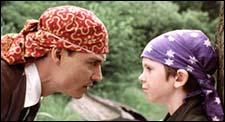 When Barrie meets young widow Sylvia Llewelyn Davies (Kate Winslet), he is enchanted by her vivacity. But it is sons Michael (Luke Spill), George (Nick Roud), Jack (Joe Prospero) and Peter (Freddie Highmore) that get him closer to the Davies home. In them, he sees the potential for creating a childhood denied to him. And it is not just a childhood he will give them.
Barrie entertains the boys with games and imaginative adventures, and creates a 'Neverland' where boys can go and never have to grow up.
The magical and enchanted childhood he imagines for the boys will inspire him to write his best-known work,
Peter Pan
.
The boys, particularly the emotionally sensitive Peter, become the prototype for Peter and other characters in the play. The film hints even Captain Hook was inspired by a character connected to the Davies family. (Watch out for the visual that establishes this link!)
Syvia's mother (Julie Christie, playing a small, but strong part after being wasted in
Troy
) wonders why Barrie has taken a liking to her family, including her daughter whose sudden ailment could turn serious. Barrie's wife initially welcomes his interest in the new family in awareness of the boys' grandmother's connections to the art world, but soon, she too resents the bond.
When Barrie brings the cast of
Peter Pan
for a private performance to Sylvia at her home, any doubts about his intentions should clear. The sequence is also one of the most stirring and heart-rending dramas one has seen in a long time, and what is admirable is that it is played with a tasteful, melodramatic touch.
Johnny Depp, one of Hollywood's most protean actors whose taste runs from the big budgeted
Pirates Of The Caribbean
(worldwide gross over $750 million) to the small
Finding Neverland
can add this film to his gallery of vivid characters. In a few weeks, fans may rejoice with his Oscar nomination, and some will argue forcefully that he should be the winner against the formidable Liam Neeson as
Kinsey
and the awesome Jamie Foxx as
Ray
.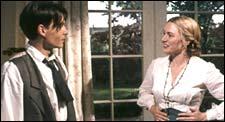 This is one of the recent films where every actor shines. Vying for top honours is Kate Winslet giving her best performance since the landmark
Titanic
. She looks not only luminous but also efficiently depicts the inner confusions, self doubts and fun she starts having, following her first encounter with Barrie.
And yet, her character and behaviour does cause worry to the fans. Though she is radiant and full of life, the film doesn't really let us know why Barrie was not attracted to her.
Hoffman, who played, without distinction, the title role in
Hook
, Steven Spielberg's 1991 retelling of
Peter Pan
, offers one of his better crafted recent performances.
Watch out for Ian Hart who plays a small but crucial part, and whose identity is revealed late into the film.
Reports from London say the Barrie family was not very happy with the film. Many reviewers admiring the film have also pointed out liberties David Magee took. In real life, the Davies boys' father was still alive when they met Barrie, later dying of cancer, and three of the brothers (there were actually five, not four) had sad fates. Two died as young adults and Peter, unable to handle public attention and concomitant problems, including the loss of celebrity, threw himself under a train at the age of 60.