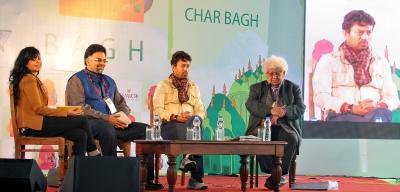 Actor Irrfan Khan doesn't see it as a good sign when film stars are worshipped like God and feels that the myth should be broken. Shahnawaz Akhtar reports from Jaipur
Irrfan, who was addressing the audience in his third session themed Bollywood Nation at the Jaipur Literature Festival on Saturday was in conversation with British economist Lord Meghnad Desai and author Vamsee Juluri.
When the topic of both actors from the South being more proactive in politics than their Bollywood counterparts came up, Vamsee explained the phenomenon to be associated with their success and popularity to them being revered as deities, Irrfan answered, "It's not a good sign that film stars be treated like God. I think the myth should be broken, as they also humans." He added, "People should be more educated about this species called film stars."
He even pointed out that for him, a hero is a person, who challenges his limits, rises above a situation and fights for himself. "Paan singh Tomar signifies those things in the Indian cinema. The audience was enriched by the film, that demanded certain changes to be made in the society," Irrfan said.
As the session proceeded, moderator Rupleena Bose questioned Irrfan, as to where the angry young man of the seventies had disappeared? Even much faster than Khan would reply, Desai quipped in by saying, "He has turned into Arvind Kejriwal," amid peals of laughter from the audience.
When one of those in present in the audience asked why few stars were okay with being stereotyped, Irrfan replied, "Indian films need to evolve and directors and actors need to experiment with every film. But many a times, filmmakers treat their films like a money making project, and approach a star for that, who then demands for certain action sequences, and a couple of songs, so that the film becomes a commercial hit. But when an actor is approached with a script, where he fits in as a character, then the film gets a realistic look. But, yes I will agree that there are few actors who do certain roles only to earn money."
He quickly added that it's the media that creates pressure on filmmakers to get into the race of raking in crores.
"It's media which creates pressure for 100-crore films. If a film does not make such money, it's called of nich jaati (lower caste). But then, they underestimate the audience," summed up the actor.
Photo courtesy: Chandra Mohan Aloria