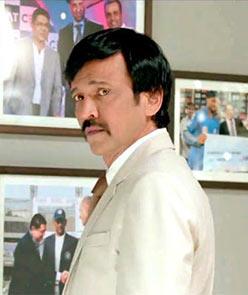 'When the same rotten paratha is served to someone year after year, it shocks them when all of a sudden there is a change in taste.'
Kay Kay Menon justifies why he took up Yudh.
Kay Kay Menon claims he hasn't watched Yudh, Anurag Kashyap's recently-concluded television series that the actor was a part of.
Just as well, since the show was such a disaster.
Kay Kay is busy working on his movies -- he was seen in last week's release Raja Natwarlal, where he played the main antagonist; he will also be seen in Haider, Saat Ucchake and Bombay Velvet.
In conversation with Sonil Dedhia, Kay Kay explains why he does not feel the need to stay in the news, and that films are just a small part of his life.
Your television series Yudh has been a major disaster.
I haven't watched Yudh and don't know what the TRPs are.
I did it because of Anurag Kashyap.
Also, with Yudh I was supporting the cause of elevating the mind-numbing daily soaps that we have.
Television serials today are almost brain dead and people are used to such series. Yudh is an attempt to take the audience to the next level.
When the same rotten paratha is served to someone year after year, it shocks them when all of a sudden there is a change in taste.
Is Yudh bad compared to other serials running on television? If you show me that the content is bad, I will accept it.
But that is not the case. We need to make and show serials like Yudh.
The Indian television audience is not mature enough to accept Yudh.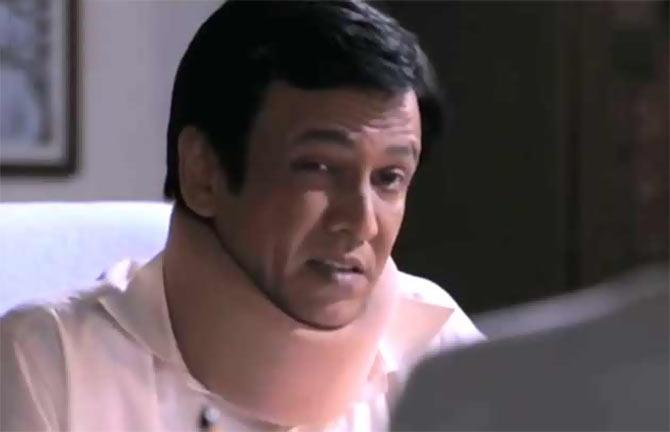 Image: Kay Kay Menon in Yudh
It's been more than a year since your last film. Are you very selective about your films?
I don't know. I have been continuously acting.
I do my job. After that, it is up to the producer when he wants to release the film. I have four films (Raja Natwarlal, Haider, Saat Uchakkey and Bombay Velvet) releasing in the next 10 months.
If you are constantly in the public eye, it is taken to mean that you are flourishing. I can be in the papers every day if I cut ribbons every day. But that doesn't necessarily mean I am flourishing.
I am content doing something worthwhile for which I am appreciated. I work with an eye on posterity.
For me, the focus is to leave behind a legacy and not give a string of films that do well for three days and are then forgotten.
Nawazuddin Siddiqui played an antagonist in Kick and now you are playing one in Raja Natwarlal. Is it time that the industry notices unconventional actors and gives them substantial roles in commercial films?
Be it Nawaz, Manoj (Bajpayee) Irrfan (Khan), Naseer (Naseeruddin Shah) or me, all of us love performing.
Now what role comes to you or doesn't come to you is a matter of fate and destiny. At no point will any of us strike down something big because it is big or small because it is small.
All we look for is interesting roles or persons to portray.
I don't play roles, I play people. I am very clear about that.
Roles are finite but people are infinite.
I am not really attached to my films and work. The film industry is just a small part of my life.
There are things apart from films that inspire me. I play a lot of sports and love it. It is the only field where you can't become a star without actual performance.
So I am not cocooned in that sense. Since I am not that aspirational or within a small domain or function, it doesn't really bother me.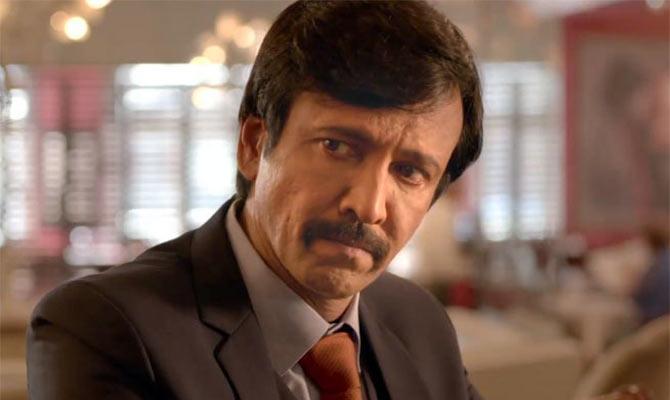 Image: Kay Kay Menon in Raja Natwarlal
Do you look back at your performances in films like Sarkar and Hazaaron Khwaishein Aisi as your personal benchmarks?
Yes, I do.
And would you agree that a film like Sarkar gets talked about so much because it was a commercial film and your great work in other films has gone unnoticed?
I don't think I have achieved perfection. The paradox of perfection is that you should try and achieve it by doing quality work even though you know you can never achieve it.
The moment you achieve perfection, you are dead. The word exists because we are all imperfect. That is true about performance as well.
Out of the 50 odd films I have done, I think there are 10 or 12 films that you can keep in your DVD collection for posterity. That is not a bad ratio. It is one-tenth of my filmography.
Even a Robert De Niro or Marlon Brando has only one-fifth a ratio (laughs).
These 10 films are my identity. And I am quite happy with that. I would like to add Sankat City to that list.
Emraan Hashmi mentioned in an interview that he had to do Raja Natwarlal as his fans didn't appreciate him in offbeat roles. Shahid Kapoor did R…Rajkumar to get his career back on track. Do you admire the balancing act of these stars or do you feel they need to challenge themselves more often?
I can't ask a left-handed batsman to bat with his right hand, so it becomes difficult for me to comment. If he is scoring runs with his left hand, let him continue.
If they are doing it for whatever reason, and succeeding at it, then I wish them success as long as possible. I see no harm in that. And it is not my job to comment on them.
But would you agree that films today have become very formulaic…
(Interrupts) Formula begins on a problem note. A hero becomes a hero when he does something heroic. Unfortunately in our films, the hero is there in the first place. It defeats the point of making the film! It is mostly a propaganda of personal ego happening. Tripping your own ego on screen is not called acting. It should be exactly the reverse. I surrender and keep my ego out of the frame.