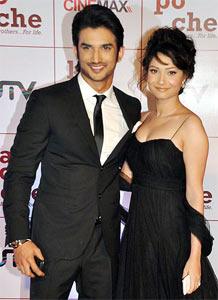 Kai Po Che actor Sushant Singh Rajput's career and personal life seems to be getting even better. And as if to prove that, the actor has moved into a new home in Malad, a western suburb of Mumbai, with his actress girlfriend Ankita Lokhande.

Confirming this, Sushant says, "We moved into a new place on November 11. It's much more spacious than our old home. I have a home theatre, and that's a big thing for me. We're planning to get married very soon, probably in the next few months. We've living in together for four years. Marriage seems like a natural progression."

Sushant says Ankita is not as ambitious as he is.

"She is doing very well on television. She was offered a couple of big films but they didn't
work out. She's very happy in her space. I want to be secure and happy in what I am doing, just like her."
Didn't his girlfriend Ankita recently slap him in public view? Sushant replies with a chuckle and says, "Do you believe what you read? That isn't the only baseless story doing the rounds. There was another story that I had a spat with someone in the gym. Initially, I used to get affected by these stories but then I started looking at the criticism philosophically. I rationalised it by arguing that all the good things that are happening to my life and career have to be balanced out with the glitches. That's life. If you want a rose garden, they come with the thorns. I know Ankita didn't hit me. But what's the point of clarifying when the damage is done? I guess this is the minus side of getting full credit for the success of a film even when you know there are many other factors that contributed to it."