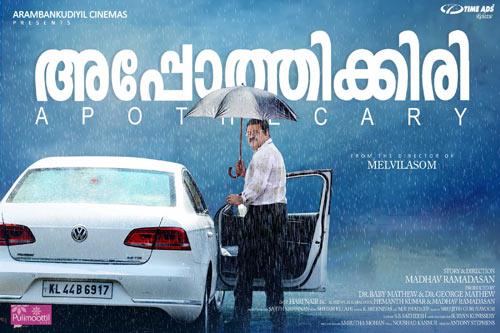 The director of Melvilasam, Madhav Ramadasan, won the Gollapudi Srinivas award for the Best Debut Director in 2011.
He is now back with his second film titled Apothecary which narrates the happenings in a hospital.
Suresh Gopi plays Dr Vijay Nambiar, a surgeon. Abhirami who returns to films after a break, plays his wife, Dr Nalini. Jayasurya and Asif Ali are also in the film.
In a brief chat, Suresh Gopi talks about Apothecary.
What is the nature of your character in Apothecary?
My character, Dr Vijay Nambiar, is a successful doctor. I can't reveal more about the character.
The film talks about the responsibilities of a doctor, among other things. I feel that a doctor should have the vision of a leader.
Your characters are almost always socially committed. Why?
My social activities off the screen should make such characters more believable and the viewers seem to relate to my characters.
They are perhaps aware that my concerns are genuine. I think that is why filmmakers cast me in such films.
The characters you have played in films such as Commissioner, Ekalavyan, and Pathram are an inspiration to many. Do you plan to do more such films in the future?
Yes, I would love to do more such films that take on issues like corruption. Art can influence people, and indeed it should do that as well.
Your role in Madhav Ramadasan's Melvilasam was much appreciated. What are your memories of the film?
Melvilasam broke a short, silent phase in my career. It was interesting and valid.
We read about such discriminations even now. The theme of the film is still relevant.