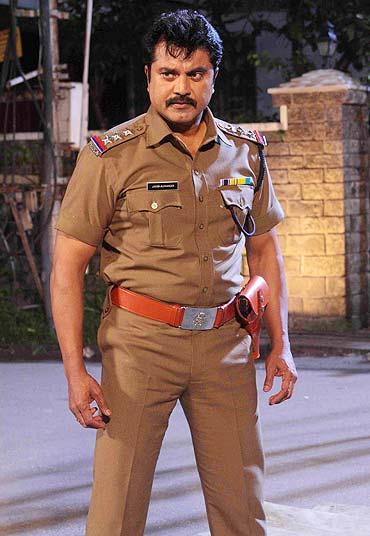 Paresh C Palicha reviews Malayalam movie, The Metro. Post YOUR reviews here!


These days an intriguing screenplay has become the order of the day, where multiple narrative techniques are used to tell a story.
That may be simple telling of an event from different point of views or a complicated procedure of the story moving back and forth trying to captivate the viewers' attention.
It may work wonders in able hands but if not done well, it may end up shoddy and cumbersome which is the case with
The Metro
,
claimed to be Tamil superstar Sarath Kumar's first Malayalm film in the lead and directed by Bipin Prabhakar.
The film's premise is promising. We have a superstar supported by four young actors and a simple story where Kochi is shown on the verge of becoming the best port city in the world with its own set of problems. Like any other developing metro, this one too faces law and order problems with criminal elements taking over the reigns of power. To put it in other words, we have the underworld taking roots in the city to take the maximum advantage of the development schemes being implemented.
All said and done, the basic theme of a good guy taking on a bunch of bad guys or even an upright police officer taking on the corrupt system is on the play.
To make it more interesting there are elements that are added to the narrative. Here it is a bunch of youngsters unintentionally helping a low ranked police officer Joseph Alexander (Sarath Kumar) to take on a gang of hooligans led by Paruthikkadan Shaji (Suresh Krishna), who even enjoys the patronage of higher ranked police officers and their political masters.
The youngsters are led by Hari (Navin Pauly) and other youngsters and supported by Suraj Venjaramoodu as a jeep driver with a vehicle that is good enough to be in the junkyard. He provides the much needed funny interludes even though they hardly provide a chance to chuckle after the first couple of times.
We feel that Sarath Kumar deserved a better role fitting his stature as an actor. He has to go ballistic in a dubbed voice a few times and that is jarring. Bhavana as the leading lady has nothing much to do as far as acting goes. Suresh Krishna is theatrical and loud as the villain.
The much-publicised three-track narrative (intersecting each other at a vital point) by Vyasan Edavanakkad loses its sheen as we have seen more intelligently crafted screenplays in films like
Cocktail
and
Traffic
in the recent past. And to add to that there is a dollop of melodrama which drags.
We wonder why actor Dileep (who is also the producer of this film) warns us that this is not a true story but that it could happen to us if we're not careful.
All in all, The Metro is utterly disappointing.
Rediff Rating: