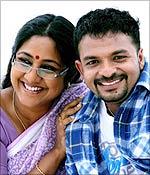 Paresh C Palicha reviews the Malayalam film, Payyans. Post YOUR reviews here!

We know that there are limited number of plots for directors to choose from -- it is for him to imbibe the plot that he has chosen with some ingenuity and originality. The film's success mainly depends on this element, the rest of the things just follow.

Good acting, technical finesse and all that are peripherals contributing (only to a certain degree) to the success of the film as such. So it is with an open mind that we go to watch Payyans directed by Leo Thaddeus and starring Jayasurya.

The movie is a 'coming of age' story of a brat Josey (Jayasurya), who has flunked his engineering exams and is now a failed entrepreneur with a drinking habit. He has styled himself as a punk with a weird hairdo and a beard to match. We are constantly reminded that he is just about 23 years of age (his father John a Marine Engineer played by Lal had been killed twenty years ago when Josey was two and a half years old).

The story, which dwells on the mother-son equation, does not move swiftly. The female lead is introduced in a typically hostile manner in the form of Seema (Anjali), who works as a sound engineer in a radio station where our brat gets a job as a radio jockey.

The reason given for Josey becoming a spoilt brat is the absence of a father-figure. But this imbalance continues even after the interval when his mother dies in a bizarre accident, and the miraculous re-appearance of his father.

Though the story fails to raise above the ordinary, there are points that are worth appreciating. One such point is the independence of the female characters. Though Padma and John's marriage is inter-religious, she carries on with her beliefs. The same could be said about Seema though her character lacks the ultra-modern gloss associated with the leading ladies of today.

Jayasurya, who has to look at least ten years younger than his actual age, is convincing in his mannerisms rather than his appearance. After making a mark in the Tamil film Angaadi Theru, Anjali does it again in this film just by the power of her character. Rohini and Lal who play Josey's parents are passable. Lalu Alex as Padma's boss and family friend, and Suraj Venjaramoodu as Josey's chum are okay too.
In the end, Payyans does not present anything extraordinary or radical.
Rediff Rating: