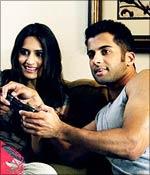 Radhika Rajamani reviews the Telugu film, LBW (Life Before Wedding). Post YOUR reviews here!

A film like LBW (Life Before Wedding) springs a pleasant surprise on the viewer. The film on today's generation and their viewpoints does not come sugar-coated. Director Praveen Sattaru has made an honest attempt to depict the life of two couples in this well-presented, technically good debut film. Partly shot in Dallas, US and Hyderabad, the film strikes a perfect balance and makes for worthwhile viewing.

The story is simple but the screenplay is arresting. Rajesh (Rohan) and Radhika (Chinmayee) live and work together in Dallas. They are the best of friends but when Radhika professes her love to him he doesn't react positively. In the meanwhile a friend of his Varun (Asif) walks into their lives.

After this incident, Radhika gets friendly with Varun. Rajesh asks his mother to fix his wedding. But when the wedding is fixed he has doubts and wants to get back with Radhika!

Meanwhile in Hyderabad, Rishi (Siddhu) meets Anu (Nishanti) and starts liking her. They go out together but she can't stand his smoking and lies. His friend Jai (Abhejit), a quiet guy, takes Anu into confidence and both fall in love. Jai gets a job in the US and goes there. Anu's parents fix her wedding. Will the two pairs of lovers unite?

The opening scene of the film has a few friends discussing love and marriage and these two stories come up. This opening scene is not impressive leaving one wondering about the film but a few minutes later the film picks up steam and one is glued to the proceedings as the stories are juxtaposed while being narrated in flashback.

It's interesting to see how they are narrated and how the love angle is developed. They are presented naturally and it's refreshing to see the newcomers perform well. Director Praveen has ensured the film is a slice of life about the the youngsters and their perceptions, reactions, perspectives and emotions. In that sense, the film is relatable by the audience particularly the youth. The film does tend to drag a bit in between, though.

The newcomers are fresh, impressive and immensely natural. One can hardly say it's their first film. Abhejit, Rohan, Chinmayee, Nishanti, Asif, Siddhu have substantial parts which they have played well. Chinmayee looks quite glamorous too in her outfits. It is heartening to see totally new faces act as though it was their third or fourth film. These actors have a long career ahead of them. A fat American who is always eating and another girl who is always sleeping provide comic relief.

Praveen's script is the backbone of the film. The songs (mostly in the background or situational) and the background score are effective. Fine camera work and locales enhance the film. Technically the film looks good. The dialogues in Telugu and English are apt and in sync with the script. Life Before Wedding doesn't look like Praveen Sattaru's debut film too.
To sum up, Life Before Wedding is realistic and definitely worth a watch. It's a pity that it didn't find a multiplex release considering it's a multiplex film.
Rediff Rating: