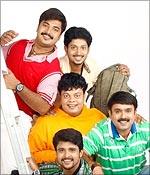 Paresh C Palicha reviews the Malayalam film Holidays. Post YOUR reviews here.

Holidays, the first Malayalam film directed by Dr M M Ramachandran (of Atlas Jewellery fame) is atrocious, to put it mildly.

The script credited to Mohan Thomas seems to be written on scraps of paper. The story is virtually non-existent. A group of students lead by Vinu Mohan take a bus from Bangalore to Kochi on a mysterious mission. After that, it feels like the director went around asking all and sundry as to what happens next and picking up suggestions randomly.

You eventually find out that the students have gone back to help a friend (Sudheesh who has not grown up in the last 20 years and is still a college student) elope with his girlfriend, who is the daughter of an MLA with a criminal background. Gang wars, Hawala money, corrupt cops and even a psychopath with a face mask are added to the concoction. The cast hops to Kuala Lumpur whenever there is a gap in the proceedings.

Kalabhavan Mani's presence as an honest police officer does not give impetus to the proceedings.

Our hearts go out to the young actors who have agreed to be a part of this venture. Projects like these are not going to help them.

Ramchandran would be well advised to stick to the jewellery business instead of committing atrocities like Holidays on hapless actors and viewers.
Rediff Rating: