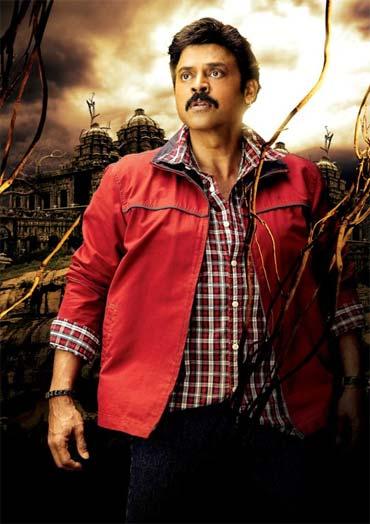 Venkatesh is back with Nagavalli Chandramukhi (the sequel to Chandramukhi), and a remake of Vishnuvardhan's Kannada super hit Aptharakshaka.

P Vasu (who helmed Venkatesh's hit film Chanti) directs the sequel. Venkatesh has quite a few glamorous female actors sharing space with him like Anushka (who acted with him in Chintakayala Ravi), Kamalinee Mukherji, Richa Gangopadhyay and Vimla Raman.

The superstar is said to don different looks in the film which have not been revealed to the audience yet. The logo of the film was launched recently with Venkatesh unveiling it in royal style by dropping the veiled cloth that had covered the logo and the face of the Chandramukhi painting.

Nagavalli Chandramukhi is produced by Bellamkonda Suresh. Guru Kiran composes the music, Parachuri brothers pen the dialogues, Chinna is in charge of Art, Shyam K Naidu handles the camera and Marthand K Venkatesh edits the film.
The audio of the film is slated for release shortly.