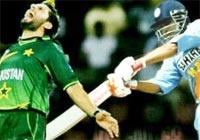 Recently Sonakshi Sinha annoyed some of her fans when she tweeted a morphed picture of Shahid Afridi getting whacked by an Indian batsman just before the India-Pakistan semi final match on Wednesday.

The actress added a caption as well: 'De ghumaaaaake! Hehehehahahaha.'

But the Dabangg girl did not imagine that her little joke would make her fans angry.

Her fans started tweeting back, telling her to be a goodwill ambassador between the two countries and learn a few things from Salman Khan. Some of them even unfollowed her on twitter.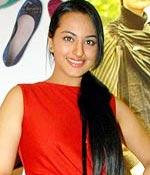 Sonakshi soon realised the intensity of her tweet and calmed her fans down by asking them to be a sport, and that she was just joking. She then deleted the picture from her twitter account.

'Pak fans very upset. jung ke maidan mein ladne se toh accha hi hai khel ke maidan mein ladein! I am all for love thy neighbour. Be a sport yaar,' she tweeted.
Do you think people are making a big deal out of nothing? Or do you think Sonakshi went a tad too far in her joke? Have your say!