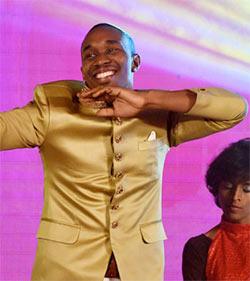 'Shriya and I are good friends. There is nothing more to it.'
'All the actresses are so beautiful. I like all of them. If I have to pick, it would be Jacqueline Fernandez because I have met her a few times on Jhalak. I am comfortable around her.'
Dwayne Bravo gets candid.
West Indies cricketer Dwayne Bravo is all set to dance for India.
He will feature in celebrity dance show Jhalak Dikhhla Jaa as a wild card contestant.
Bravo, who recently grabbed headlines after being spotted with actress Shriya Saran, says the competition is tough but he won't shy away from giving his best.
In this chat with Rediff.com contributor Rajul Hegde, Bravo talks about Jhalak, cricket and his friends in Bollywood.
You are known to dance well. Is that the reason why you decided to take up dance reality Jhalak Dikhhla Jaa?
It is the biggest dance reality show of the country, so why not? It's a new opportunity for me and it allows my fans to see me do something different.
This is something out of my zone and I'm looking forward to the show. I'm happy to be here.
Do you know any Bollywood songs?
I am aware of a few popular songs like Disco Deewane, Lungi dance and Chammak Challo. I like some of these songs.
What was on your mind when you did the famous towel dance on the show?
When I first saw Salman doing the towel dance, I enjoyed it and laughed. I found it cool. When I came on Jhalak, they said I have to dance to this song. I got excited because that part of the song was fun.
My choreographer makes me comfortable with the steps. I like some of the moves from Indian dance forms. It's challenging to remember the dance steps, sync with your partner, to be judged and dance in front of the audience. Cricket comes naturally to me; dance needs a lot of hard work.
How good are you at Indian dancing?
I come from Trinidad and Tobago in the Caribbean and dance is a part of our culture. I have been dancing forever.
Sports and entertainment go hand-in-hand, especially when you are born in a culture where entertainment is on top of the list.
I come from a place where 45 percent are Indians. So there is a cultural mix, which includes music and dance, and a lot of similarities. So it becomes easy for me to do the Indian steps.
If you had to pick an Indian cricketer for a dance challenge, who would it be?
(Laughs) Virat Kohli is a good dancer. He has danced in one of my music videos. He is so cool, so natural, definitely one of the best dancers in the team.
Then you have Ravindra Jadeja.
I think all the players can dance well. If you are born in India, you can do two things: dance and play cricket.
Recently you were spotted lunching with actress Shriya Saran.
(Laughs) No matter where I go in my country, no one cares. They might just call out my name and say, 'Hey Bravo' and walk away.
The only time I am in news is when I do something on the cricket field or in music. No one waits outside a restaurant or night club to get a photograph of me.
But it's different in India.
Shriya and I are good friends. There is nothing more to it (laughs). Yeah, she is a beautiful girl.
You recently did a dance number for the film Tum Bin 2. How was that experience?
It was a really good experience. It was a party song, a fun song in a night club. I got to learn a lot and meet new people.
Any plans of an acting debut like Bret Lee?
Hopefully yes, if the right opportunity comes my way. As long as it's something positive, I would love to.
Which actress would you love to star opposite?
(Laughs) I don't know. All of them are so beautiful. I like all of them. If I have to pick, it would be Jacqueline Fernandez because I have met her a few times on Jhalak.
I am comfortable around her.
Deepika Padukone has been my all-time favourite. I have been coming to India and have admired her work.
What do you like about India?
I have some loyal fans here. No matter where I go and play, they keep up with my progress and performances. That is something I always cherish.
How much Hindi have you learnt?
Thoda thoda.