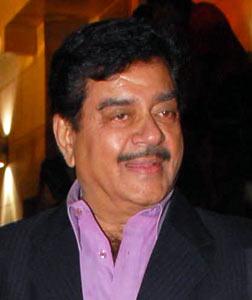 Shatrughan Sinha recently addressed the UN General Assembly for third time on Tuesday, November 5.

That's quite an honour because no other member of the Indian film industry has addressed the UN thrice over.

"I suppose somewhere, my words do have a certain resonance," says Shatruji modestly. "Normally, we in the Indian film fraternity are considered quite ill-informed on matters other than entertainment. But that isn't the reality. Personalities like Amitabh Bachchan, Shabana Azmi and Kamal Haasan are not just interested in cinema. They take a keen interest in world affairs, and are also terrific orators."

Shatrughan feels the Big B should be made the President Of India! "He
has all the qualifications!" he exclaims. "He's articulate, well-read, suave and known all over the world."
The actor says his differences with the Big B are a thing of the past. "We go back a long way. There were creative conflicts when we shot together for
Kala Patthar
and
Dostana
. And whatever differences happened have been washed away with time. I remember while shooting for
Bombay To Go
where Amitabh was the hero for the first time and I was the villain. He hit my nose accidentally and it started bleeding. Amitabh got so disturbed at the sight of blood that I forgot my pain and started reassuring him!"
Shatrughan Sinha is currently shooting for his comeback film
Woh Aadmi Bahot Kuch Jaanta Hai,
where he has some powerful dialogues.
Says the actor, "I was always known for my my dialogue delivery. Now when people tell me my daughter Sonakshi speaks her lines well, I feel very proud."