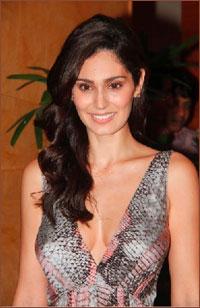 Salman Khan's Jai Ho heroine Daisy Shah will have company in the film.

Grand Masti's Bruna Abdullah has been added to the cast after a role was especially created for her opposite cast member Ashmit Patel.

A source close to the project informs, "Ashmit and Yash Tonk play Salman's buddies. Everyone felt there was room for a romantic angle for Ashmit's character and Bruna was brought in. She plays the girl Ashmit loves but he's unable to express himself. Nadira Babbar (who plays Salman's mother in the film), Tabu (who plays Salman's sister) and Salman tease Ashmit about his tongue-tied predicament."

A song featuring Ashmit and Bruna has also been added.

'It comes on right the beginning of the film when there's a rave party going on. Salman Khan is introduced in the film after the opening song," says the source.

The climax of the film has Salman and his friends trying to save the chief minister's life.

Says the source, "Mohnish Behl plays the chief minister. At the climax, Salman has to save the CM's life to save the state from catastrophe. It's a very patriotic film.
"Salman, Tabu and Nadira Babbar actually become like one family. They would look after the entire unit. To be honest, everyone was intimidated by Nadiraji. She is stern and not prone to mauj-masti (having fun) while working. Salman is just the opposite, and there were adjustment problems in the beginning. But these were soon sorted out. Salman went that extra-mile to adjust to Nadiraji," adds the source.
Photograph: Abhijit Mhamunkar