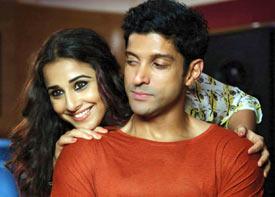 Shaadi Ke Side Effects is a well packaged album that has everything, from happy to sad, club to desi and situational to dance floor, making it highly engaging, writes Joginder Tuteja.

Fun, and a lot of it.

That is what one expects from the soundtrack of Shaadi Ke Side Effects, starring Farhan Akhtar and Vidya Balan. It is the sequel to Pyaar Ke Side Effects, which had some good tunes too.

With Pritam at the helm of affairs again (with Mikey McCleary as the guest composer), the soundtrack has Swanand Kirkire stepping in as the main lyricist, with a song apiece written by Amitabh Bhattacharya, Mayur Puri and Ankur Tiwari.

The club track is titled Harry's Not A Brahmachari. There is a good thump that comes into the song with Ishq Bector's rap.

Jaazy B then takes over, with Pritam making sure that the song that occurs twice in the album, and has enough spunk to make you head for the dance floor.

It has ample ammunition to enjoy a long run, which will transcend the run of the film. Divya Kumar also arrives in the latter part of this Amitabh Bhattacharya song.

I'm Sorry Tumse Pyaar Ho Gaya is a sweet number sung by Nikhil Paul George, who has sung quite a few young songs of late.

Rightly termed The Hey Song, courtesy the 'hey' that sounds throughout this four-minute piece, this one takes some time to get used to but sticks rather well after being heard four to five times.

Neeti Mohan soon joins Nikhil in a mushy romantic duet. Mili Nair is the additional vocalist for I'm Sorry... which has its roots in the musical rom-coms of the West.

Tauba Main Vyaah Karke Pachtaya is a nostalgic number that takes its cue from Pyaar Karke Pachtaya (from Pyaar Ke Side Effects).

During the first couple of listenings, one may be a little taken aback since the pace here is relatively slow while the club effect is gone. However, on closer listening, one realises that this pacing goes with the mood of the protagonist who indeed regrets getting married.

Shahid Malya sounds pretty much like Farhan Akhtar in this song, which is a win in itself. He is in the good company of Poorvi Koutish who, despite not coming anywhere close to Vidya Balan's voice, adds a certain naughty element to the proceedings which are narrated in a humorous andaaz by lyricist Mayur Puri.

In an additional Punjabi version, there is Arif Lohar. He is just superb and his rendition lends further weight to the album.

The next number, Desi Romance, is the most interesting number in the album. Suchi begins this club track (and also makes intermittent appearances) with a semi-classical rendition that gives the number an edge.

Swanand's lyrics take the album through from this point on, and by the time Arijit Singh is heard in the song, you know that the soundtrack is indeed a winner.

Arijit makes a belated appearance in the album, but makes an instant impression with his unique singing. The rest is taken care of by Pritam who introduces the club sound at just the right moments to ensure that Desi Romance is a winner.

There is some thehrav that comes with Farhan singing for the first time in the album, with Yahaan Vahaan. A beautiful love song that has Farhan asking for maafi from Vidya in his unmistakable voice, there is also a distinct Pritam touch to Yahaan Vahaan.

A good situational number that should keep the narrative of the film engaging, it also appears in a relatively longer 'reprise version'. Yet again, one senses a Western rom-com feel in the manner in which the song begins, which goes well with the overall flavour of the film.

The album continues with Bawla Sa Sapna, a lullaby sung by Mohit Chauhan for a situation where a father narrates a tale to his child. Just like Shahid Malya, Mohit too modulates his voice quite well to sound just like Farhan.

Different from the lullabies one usually hears in Bollywood films, this one has a good rhythm, with Pritam and Swanand playing it differently.

The song is repeated as a children's version titled The Children Come To Sing. Diva, the kid who has sung this one, is quite good and makes the version her own.

Last to arrive is Ahista Ahista which is the only composition by Mikey McCleary in this Pritam-owned album.

The composer makes sure that the number fits in well into the overall mood of Shaadi Ke Side Effects and never strays from what it intended to tell.

A sombre number that has Farhan Akhtar going almost unplugged for this Ankur Tiwari number, it is a song of separation and sense of loss. Expect this one to play at a crucial juncture in the film.

Shaadi Ke Side Effects is a well packaged album that has everything, from happy to sad, club to desi and situational to dance floor, making it highly engaging.

Pritam makes sure that his good form continues in 2014 with the soundtrack of this Farhan Akhtar-Vidya Balan film.
Much recommended!

Rediff Rating: