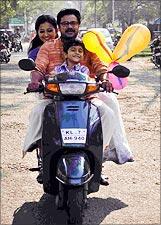 Paresh C Palicha feels Malayalam film Orma Mathram does not impress. Post YOUR reviews here!

Director Madhu Kaithapram, who has followed the 'middle of the road' path in filmmaking, focuses on a nuclear family going through a crisis in his new film Orma Mathram. The film stars Dileep and Priyanka.

Ajayan (Dileep) works as a clerk in the office of a high profile lawyer, leads a lower middle class life with his wife Safia (Priyanka) and young son Deepu (Master Siddharth) in a rented house that is full of mostly second hand goods.

Their life seems to be full of compromises. Safia has an abortion, which is justified by the logic that the child they already have should get all their love and undivided attention. It goes without saying that there are ensuing guilt pangs.
Ajayan has a problem with his sight that will ultimately lead to blindness, but he keeps this hidden from his wife.

Life goes on thus blandly for the couple till one day, after a fun-filled visit to the zoo, Deepu goes missing after a bomb blast rips through a market in the city.

The director has said he wanted to show how a nuclear family behaves in a time of grave crisis. It does do that to some extent, but there's just too much negativity that may put audiences off. There are too many issues to deal with too: orphanages, child rescue homes, begging rackets, child labour and child abuse, are all discussed in detail.

Dileep is just too earnest in his role of the frail young man who has taken a lot of beatings in life. We don't expect heroism from such a man and yet we do want him to stand up when his principles or values are questioned. Sadly, that does not happen.

Priyanka looks too young to be the mother of a five-year-old and hardly has anything to contribute except a perpetually scornful expression.
The casting of Jagathy Sreekumar, Harisree Asokan and Salim Kumar as the lawyer boss, vegetable vendor and mechanic respectively, is not particularly good.

Madhu Kaithapram may have had noble intentions in making Orma Mathram, but doesn't quite pull it off.


Rediff Rating: