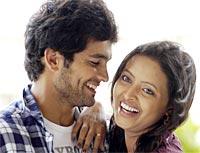 Shruti Indira Lakshminarayana writes Kannada film Jolly Boy is not a must watch at all. Post YOUR reviews here!

One more Friday and one more remake. This time it is Tamil film Pathinaaru in a new avatar, Jolly Boy. Sabapathy has directed the Kannada version as well.

Diganth, who plays the lead role, is in love with Rekha, and their love is celebrated among fellow students and also their teachers as a true and committed love. In fact, such is the popularity of the hero that he is the one-stop solution for the problems of all lovers. He is a jolly boy, but very seriously in love.

This makes it difficult for the heroine's parents to convince her that there is more to life than love. The two young love birds are told about a love story gone wrong. But will that make them give their own relationship a second thought?
Jolly Boy is split into two love stories and it is the one that is set in a village and that takes place between two 16-year-olds that creates some impact.
The dialogue is often cringe-making. Sample this: For college girls, I am jolly boy and for goons, I am a cow boy!
The music scored by Yuvan Shankar Raja is soothing, but one can't help noticing that some of the background scores borrow generously from pop and other film songs.
The cast includes Devraj and Tara but the characters they portray give them little scope to show their acting talent. The same goes for Diganth. Sudharani makes a guest appearance and a good one at that. Archana has done a neat job as a village lass.
The moral of the film: love is about commitment and not about SMSs and gifts. Any takers for this great and highly unoriginal advice on love?
Rediff Rating: