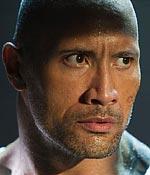 Elvis D Silva reviews the Hollywood movie, Faster.  Post YOUR reviews here!

Let me get this out of the way, right at the beginning of this review -- Dwayne Johnson has decent screen presence. His comic timing is not too bad either.

His choices of movie roles though, are not that hot.

There doesn't seem to be any earthly reason why a movie like Faster should have been made. It tells an age-old story, really badly. A recently released prisoner is on a deadly mission -- he plans to kill everybody responsible for the death of his brother in the aftermath of a robbery gone wrong.

See, here is the first problem -- Johnson's character, known only as Driver, was the wheelman on the job. So essentially he is a bad guy. Why are we supposed to care that worse guys came along, with the aim of stealing the stolen money? Why should we be impressed by the fact that this dead brother was the only one who cared about Driver when he was younger? Why should we care whether Driver completes his mission or not?

Add to the mix a Cop (the word is capitalised because that's the only name he has in the film) played by Billy Bob Thornton, who looks about as skinny and unhealthy as his ex-wife Angelina Jolie; a Killer (Oliver Jackson-Cohen) who is out to snuff out Driver before he completes his list of kills, and we still don't really care.

The action is sloppy, the acting is hammy and the pacing is so inept that a movie clocking in at less than a hundred minutes feels like a three-hour slog.

Do yourselves a favour and read a book this weekend.
Rediff Rating: