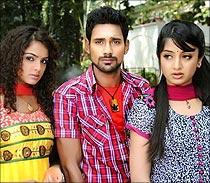 Radhika Rajamani feels Brammi Gadi Katha is entertaining in parts.
Post YOUR reviews here!
B
rammi Gadi Katha,
as the name reveals, has comedy king Brahmanandam in a pivotal role. Director Eeshwar Reddy has envisaged this movie as a film within a film and this makes it interesting to watch. There are also some hilarious scenes between Brahmanandam and Jayaprakash Reddy.
The film begins with Siva (Varun Sandesh) travelling from Viyayawada to Hyderabad where his rich maternal uncle (Jayaprakash Reddy), a film producer, wants to get his daughter Bhagya (Poonam Kaur) married to Siva as she is madly in love with Siva.
In the train, Siva meets Maya (Asmita Sood) and can't forget her. After he arrives in Hyderabad, he sees Maya again, being chased by some men and dashes to her rescue. Maya is forever running from someone or other and Siva is always trying to save her from the clutches of the goons, while at the same time evading the men his uncle has sent after him. Siva slowly falls for Maya though he denies it.
Another strand of the plot has Brahmanandam, a star director, narrating a story to the rich uncle and there's an uncanny similarity between the story he relates and what's
happening to Siva. So, the film winds it way to the climax when we learn that Maya has a past...
There are many loose ends in the film. The strange similarity of parallel events is never explained. Nor does one know why Maya behaves the way she does till almost the end. The rollercoaster ride does turn a bit emotional towards the end but director Eeshwar Reddy could have ensured a bit more logic in the story.
Varun Sandesh's acting is satisfactory but he still speaks with an American twang. It is quite funny, though, to see him bash up people who are double or even triple his size!
Newcomer Asmita Sood, Femina Miss India 2011 winner, is quite expressionless throughout the movie.
Brahmanandam and Jayaprakash Reddy steal the show. The story session between the two, with numerous interruptions, is quite a laugh riot although J P Reddy's Rayalseema accent is stale and overused. Poonam Kaur's acting looks a little daft. Nagineedu appears in a role which is unbecoming.
The film has an item number too. The camera of Jawahar Reddy captures most of the hot-spots of the city as it is forever in motion thanks to the two 'runners' Siva and Maya.
Brammi Gadi Katha
is watchable, once, for some of its hilarious scenes.
Rediff Rating
: